It's International Women's Day and we are proud that 39% of our full-time Malawian team are women and that thousands more women volunteer across the projects! In the UK 5 out of 6 team members are women but our Founder and CEO Geoffrey Furber copes quite well!
With so many women to celebrate, we decided to share the stories of four women who are not involved in the projects we run but play a very important role for the team at our headquarters, Mwaya Beach and for our volunteers.
Meet Martha, Geddess, Maria and Rebecca. Martha and Geddess are the most wonderful cooks, and Rebecca and Maria work tirelessly to keep the chalets, shared-facilities and clothes clean.
They are all local women from surrounding villages who not only have their own families but become the family of our volunteers and UK team when they're in Malawi.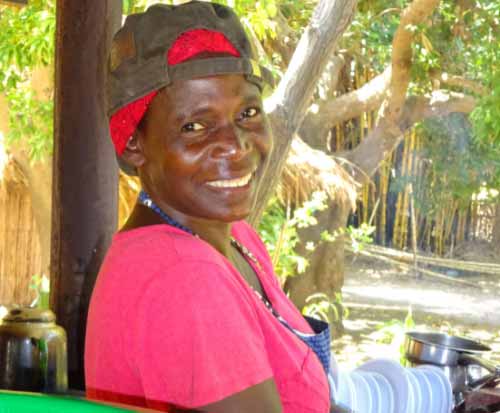 It's not only us who love their beautiful smiles, positive attitudes and dedication come rain or shine but our volunteers too.
Teaching volunteer Natasha said: Four women Ripple Africa could not do without. They hold together those who visit Mwaya Beach and those who live there; providing laughter, wisdom and security for those around them. Role models for all."
Medical volunteer Cahal said, "In general these women are the reason Mwaya beach feels like home when you're there. Even if you don't speak Chitonga hearing them chat, laugh and sing is such a reassurance. They all care so much for every volunteer that passes through. It wouldn't be Ripple Arica without these four ladies. Also Ama Martha's peanut butter is the best in the world!"
Education volunteer Emma's shared her thoughts on each lady:
Geddess:

"A bright star – always cheerful and always looking after those around her."

Martha:

"Her laugh is infectious and she is always so positive and strong."

Rebecca:

"A strong and capable lady who always helps others with no complaints, just a smile."

Maria:

"She always has a smile and asks how people. She works so hard."