Inspiring local communities to become the solution
EMPOWERING COMMUNITIES IN AFRICA
Ripple Africa is working with, and changing the lives of hundreds of thousands of Malawians mainly through our Environment projects but also our Education and Healthcare projects too.
The aim of Ripple Africa has always been to inspire local communities to become the change and the solution to the problem, and we'd like to introduce you to some of the incredible people who have embraced the change and are benefiting from the projects.
We are fortunate to meet so many people in Malawi with inspiring stories to share and Martha Ngwira is no exception.
Walking down a dusty track to see her tree nursery, we chatted to Martha about her life and why she was planting trees. "I am doing it for my children," she said.
Her tree planting story begins years earlier. Together with her husband, they had planted 72 pine trees years before our tree planting project was introduced into the area. They wanted to provide a future for their children but sadly her husband died before he could see the positive impact this would have.
But how did these pine trees help, and how will the ones she is growing help in the future?
One of her son's, Edrica, was selected to go to university. With expensive fees each term plus transport, accommodation, food, school resources and other costs on top, Marth harvested some of the pine trees to pay the costs.
The impact? Edrica is two years into his Agriculture degree and when he graduates next year, he wants to come home and help people in his community improve their farming. He also wants to set up a commercial farming business with the tools and knowledge he has gained from university.
For her youngest son Edwell, these pine tree seedlings are her gift to him. Martha, together with Edwell, is raising 5,200 seedlings and Edwell is grateful. He said, "I will raise these trees with my mother and eventually I will be able to help my family too."
Edrica continued, "Our population is growing, we need more timber to build houses so planting trees is beneficial to the environment and to the community."
Edrica is studying at university
Some more of our project beneficiaries
Grace
Grace is now enjoying a lie in! She lives with her husband Ackim and two children and used to wake up at 2am to leave to collect firewood. She wouldn't return much before 5pm.
That is because Chileka Village is located in a heavily deforested area of Nkhotakota District so she would have to walk miles to find any firewood. Grace did this three times a week.
She said, "I now only need to collect firewood once per week because I have a Changu Changu Moto cookstove, and I only need small branches too. This is giving me more time to do household chores and I am able to get piece work, either farming or carrying sand."
Learn more about our fuel-efficient cookstove project here.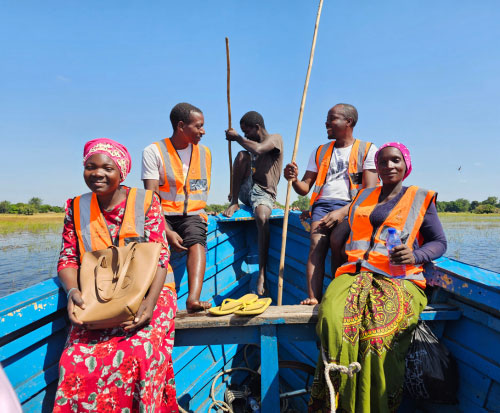 Kawanga Committee
Kawanga Beach Village Committee members are working tirelessly to protect their breeding area – one of the largest in Salima District. They carry out regular patrols to make sure that no-one is fishing in the breeding area, even at night, and have confiscated many mosquito nets which were being used to catch baby fish.
They remove plants that are harmful to fish such as water hyacinth and also make sure that grasses aren't cut so that fish have somewhere to hide when they breed.
They are really proud of the work that they are doing and see their breeding area as the focal point for increasing the number of fish in the lake.
Already they are starting to see fish that they have never found here before – a sign that their hard work is really paying off!
Learn more about fish conservation here.
Modester
Modester is 10 and lives with her grandmother, Flora, who is a member of Chiomba Fruit Tree Club. Modester is glad that her grandmother is part of this project because it means she has breakfast before school – and with less work than before.
How? Well, last year they grew and planted some hybrid papaya trees which grow shorter than the traditional varieties.
The benefits? That they can harvest papayas without causing damage to the fruit, essential if they have a surplus which they wish to sell.
Modester demonstrated the challenges of trying to harvest from the tall tree and the fruit that subsequently gets damaged as it hits the ground (as shown in the photos).
She then took us to their new papaya trees and showed us how easy it is for children to pick papayas. Flora said, "This is much better. We are really pleased to not only have a great harvest but that the children can pick them so that they can enjoy fruit before school."
Learn more about our Fruit Tree project here.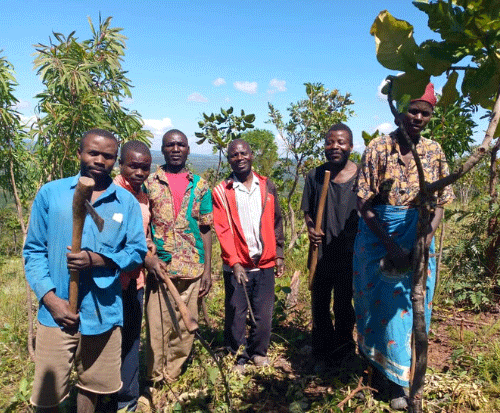 Chidambo Committee
Our Forest Conservation Committees are all striving to protect their existing areas of forest so it's particularly nice when you learn that one Committee has inspired and motivated another.
The Chidambo Forest Conservation Committee have seen the success that the Chibisa Committee have had with protecting their trees, creating firebreaks and seeing trees regenerate. They want the same outcome so are getting busy clearing areas and creating firebreaks.
Bryne, the Forest Conservation project Manager said, "They are optimistic that more young trees will be saved. This is the area they wish to work on this year to ensure that wildfire should not burn young trees."
Learn more about our Forest Conservation work here.
Faith and Glory
Faith is a sensitive child. She gets upset when people quarrel. She loves to make people laugh and her smile is inarguably contagious. She loves music of any kind.
Glory is twenty-three and Faith is her first child. When Faith was diagnosed with cerebral palsy, Glory found it hard to accept. She was afraid for what kind of life Faith would have. But now, with support from Ripple Africa's disabilities project, she is feeling hopeful.
At the Kande disability group, she is supported by Matilda and other parents of children with similar disabilities. It's a welcoming and supportive place.
Since meeting Matilda, Faith has made huge gains. She is crawling, she is able to sit down and stand up, and with time, Matilda believes she will learn to walk. She practices daily in her standing frame – provided by Ripple Africa – and her mother and grandmother are diligent about helping her do the exercises Matilda prescribes.
Glory's husband is in South Africa working. She misses him, she tells me, but he is making good money there. She is supported by her own mother, Beatrice, who spends time with Faith while Glory works as a local shop keeper.
Faith attends preschool a few days a week. Glory tells me she loves it and has made many friends there.
Resources for children with disabilities are extremely limited here, but time and again I watch these families thrive by doing so much with very little. Faith is loved unconditionally. She is surrounded by a community that cares for her, and it is beautiful to see.
Click to learn more about the Disabilities and Rehabilitation project.
Emma
Hi, my name is Emma! I am six years old and attend school here at Mazembe pre-school.
Every morning I walk to school with some classmates after I say goodbye to my family. I am so excited to see my best friend Patricia when I get to school.
I love when teacher Mr Green sings, dances, and teaches us about numbers. I always run to the swings when we have time to play outside.
Patrica and I always take turns pushing each other. I wish pre-school didn't have to end every day, but I also get excited to see my mum again and hope she's made some chicken.
Learn more about pre-school education here.
£10 could send two children to
pre-school for a month