Much of our income comes from amazing people like you, and we really couldn't make such a life-changing difference in Malawi without your help and support. If you would like to fundraise for an environment charity or perhaps education and healthcare projects, we have some incredible opportunities to get involved.
1. Get inspired! We have lots of ideas which can be found in our fundraising pack. Let us know that you are fundraising for us by signing up here.
2. Click here to download our fundraising pack and get everything you need to launch your fundraising campaign! Whether you choose one of our ideas or one of your own, we look forward to seeing what you do.
3. Start your fundraising! In your fundraising pack you will find sponsorship forms and donation forms. We also recommend using Givey if you are wanting to raise money online. But most importantly… Have fun!
4. Make an impact! If you are raising money on your Givey page, it will automatically come to us or you can donate online, through the post or over the phone. We will keep you updated on the projects in Malawi.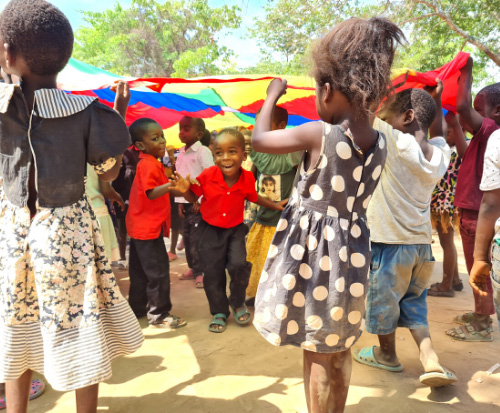 How Your Donation Can Help
Do you want to donate to an African charity? We are often asked what we need funding for or how your donation will make a difference so we hope this helps.
If you are unsure which project you would like to raise money for or to donate to, make a general donation to Ripple Africa to help us to continue empowering communities in Malawi.
We are grateful for any donation, whether regular or a one-off. However, we would love for you to become a monthly donor so you can make a bigger charitable impact to the lives of those we are working with in Malawi. It also helps us as a charity to plan.
Don't forget to follow our news and updates on our social media channels too: Facebook, Twitter and Instagram.
Every
£5
you raise can give a child a school meal each day for a month
Every
£10
you raise can support a disabled child to receive therapy for a month
Every
£20
you raise can buy five bundles of sweet potato vines for a family
Every
£50
you raise can plant 200 trees and protect 600 trees in a forest
Don't have time to host a fundraiser? Donate today to support our projects in Malawi. Thank you.
Other Ways You Can Get Involved
Title
Your content goes here. Edit or remove this text inline or in the module Content settings. You can also style every aspect of this content in the module Design settings and even apply custom CSS to this text in the module Advanced settings.
Donate while you Shop
If you shop with Amazon, you can make your purchases count. Go to https://smile.amazon.co.uk/ch/1103256-0 and register Ripple Africa as your chosen charity. We will then receive 0.5% on eligible purchases, at no cost to you.
Once you've selected Ripple Africa as your charity you need to shop through http://www.smile.amazon.co.uk or if you use the app, find Settings in the main menu (☰). Tap on AmazonSmile and follow the on-screen instructions to turn on AmazonSmile on your phone.
You can also raise free funds for us when you shop with 4,000+ stores through Give as you Live. It takes 2 mins to sign up and they'll turn a percentage of everything you buy into a donation to us. Just go to https://www.giveasyoulive.com/join/ripple-africa
Happy Shopping!
Create Your Own Online Fundraising Page
It is quick, simple and free! Anyone in the world can set up a fundraising page, and anyone in the world can donate. So whether you are doing a marathon, bike ride, or any other sort of challenge, you can raise money easily for Ripple Africa.
Here you can set up your own fundraising page.  If you are in the UK, you can set this up with our fundraising platform partner Givey.
If you are in the USA, you can set up your own fundraising page with fundraising platform Classy.
Group Fundraising
All Ripple Africa's work is based in and around the communities in Malawi, so community groups are extremely important to the success of our work in Malawi.
If you belong to a community group, why not support a Malawi community group and make a real difference?
Churches
Religion plays a very important part in Malawian culture with around 77% of the population being Christian.
If your church is interested in supporting our work, why not consider supporting us at Harvest or Christmas time? You can do this either by making Ripple Africa recipients of a collection, or why not set a fundraising target to raise via our Gift Catalogue?
If your church is interested in finding out more about our work, please get in touch. If you are near to our UK office, we could arrange a member of the Ripple Africa Team to come and give a talk at one of your services or another occasion. They can tell you more about how we work, who we work with, and how you can help. We are passionate about what we do and are happy to share this enthusiasm with you. Alternatively, we also have a great presentation that we can share with you. Contact the Ripple Africa team at [email protected]
Sadaqah and Ramadan
Religion plays a very important part in Malawian culture with around 14% of the population being Muslim.
If you are looking to give a sadaqah, voluntary donation you can learn more as to how this will support people in Malawi here.
Ramadan starts in April. Find out more if you need to pay Kaffarah or Fidya if you are unable to fast.
Should you have any questions, email the Ripple Africa team at [email protected]
RAG
Why not lend your time to raise as much money as possible for Ripple Africa whilst having as much fun as you can through night-time events and curious fancy dress themes?! Volunteering to help Ripple Africa is a great way to enhance your CV as it develops important employable skills, and shows time management and concern for others.
Duke of Edinburgh Award (D of E)
Volunteering is all about making a difference to other people's lives. Getting off your sofa and taking time out to change things for the better can be great fun.
Scouts and Guides
By supporting Ripple Africa, you can work towards badges and awards and have fun doing it!
Calling all Rotaries, Lions, Inner Wheels, WIs, and Soroptimists!
To discuss how your Club or District can work with Ripple Africa, please contact the Ripple Africa team on at [email protected]