We've decided to produce a Christmas Gift Catalogue again this year after the success of the one last year. This year's catalogue has the 12 Weeks of Christmas theme so, for the next 12 weeks on every Monday leading up to Christmas, we will have an interesting story for each different gift. So why not get a unique gift for someone you know at Christmas by having a look at our Christmas Gift Catalogue and making a real difference to people's lives in Malawi.
Welcome to the first week of our 12 Weeks of Christmas stories:
A gift of just £5 could buy educational toys for a pre-school to help very young children like Gift to learn through play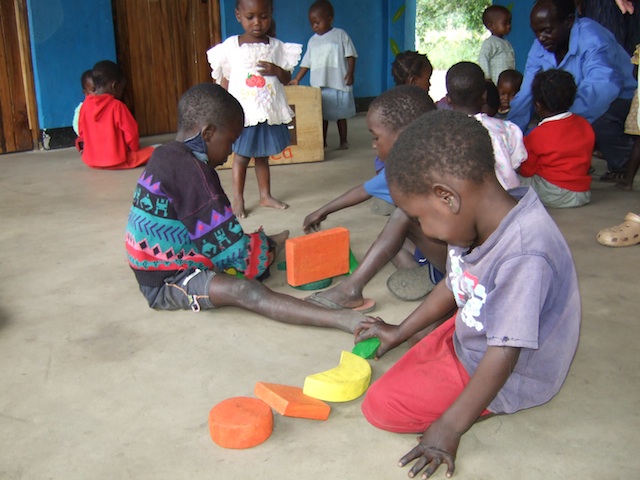 As a baby, Gift Banda was malnourished. Gift's mother used to tie him to her back and set off with his two older brothers in search of firewood and food. There was no father around to provide for the family and they spent their day struggling to find enough food to eat – there was no time for the children to play or learn.
The family's desperate situation became known to RIPPLE Africa through one of our international volunteers who used to visit and regularly check on Gift. The volunteer provided his mother with a high-nutritional milk powder for malnourished babies. In Malawi, 46% of children under five years old are malnourished and 60% of children have a Vitamin A deficiency which lowers immunity levels and reduces their ability to fight off disease.
Gift Banda is now four years old and attending Mwaya pre-school. His two older brothers attend the local primary school which Gift is looking forward to attending next year. He can't wait to get to pre-school in the morning where he gets to have a lot of fun. He loves to sing and dance, and is learning all the time through play.
He still arrives at pre-school not having had breakfast, but his mother makes sure he attends every day as she knows he will be fed. All pre-school children receive a simple yet nourishing meal of sweet potatoes and tea. The teachers grow and supply the sweet potatoes. RIPPLE Africa runs eight pre-schools in Malawi which includes paying the salaries of three teachers at each pre-school. We try to fully resource each pre-school to ensure that children get a great start to their education. We are hoping to fund new classroom blocks for three of our supported pre-schools.
Your gift will pay towards educational toys desperately needed for one pre-school.
On behalf of Gift and other very young children, a big Thank You for taking the time to read more about one of our education projects
Tawonga Ukongwa!