Recent volunteer Natasha Mladek has written a story about her time at Mwaya which is reproduced below. Stories written by other previous RIPPLE Africa volunteers can be found on the Volunteers' Stories webpage.
Mladek in Malawi
Well what can I say, the past few months have been eye opening, exciting, thought provoking and thoroughly enjoyable. I loved settling into the Malawian way of life and I am now more worried about heading back to the UK and the way of life there than I was about coming to Malawi. The staff at Mwaya Beach are friendly and helpful and there is never a dull moment. If the Jenga is still around they absolutely love playing, so challenge them to some matches from time to time. I never got over how beautiful Mwaya Beach is and the morning sunrises were something very special. If you are not a morning person, the longer you stay the more likely you are to become one!
Morning sunrise
I arrived with another volunteer, Ilka (who quickly became known as Kate due to the confusion between the letter R and L for Malawians) and we were shown the ropes by a previous volunteer who was visiting for a month as a guest. By the end of the first week we were able to find our way around easily and source anything we needed locally. The local language, Chitonga, was easier to pick up than any language I have learnt before and the locals really appreciate the Chitonga interaction. You will greet everyone you pass and the smiles on their faces are contagious. The children will walk with you wherever you go, holding your hand and grinning from ear to ear. A short walk down the beach to Lowani and the same happens. When we went swimming in the afternoon you were more often than not joined by a group of children who just wanted to play with you in the water. We used to teach them to swim and float as very few locals can swim properly.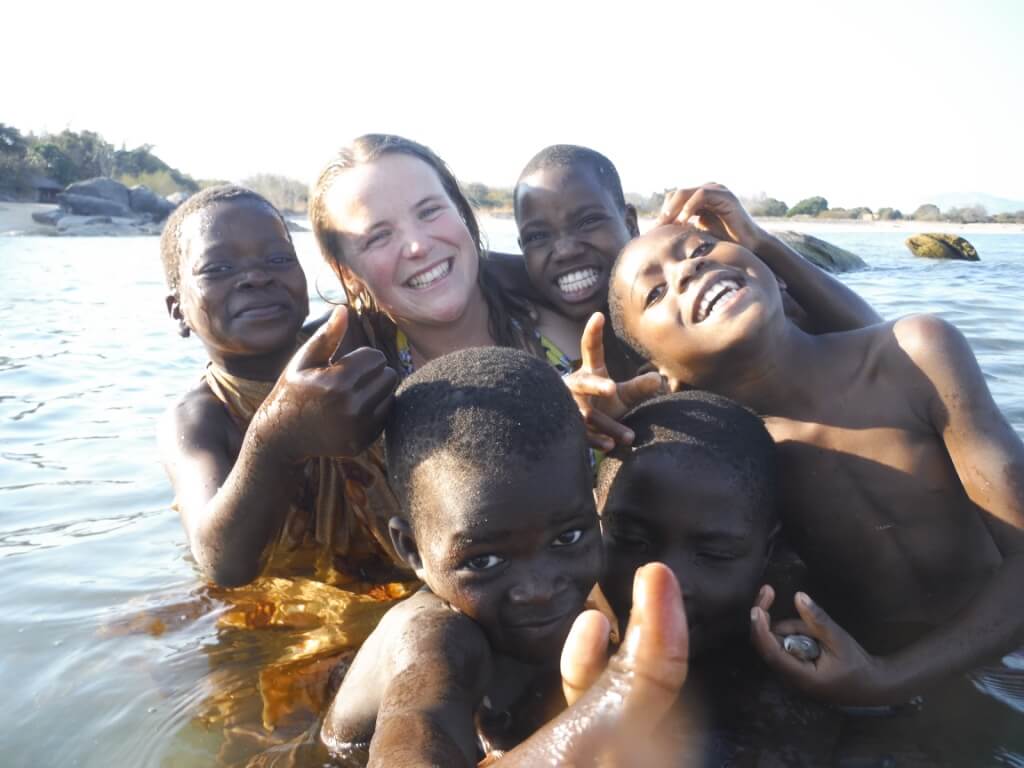 Swimming in the afternoon
I came out here with no presumption about what I was going to do or how it was going to be. I did not know what to expect while living at Mwaya Beach or where I would feel the support was needed most on the volunteer side of things. After an interesting and thorough introduction by Dan it was clear to see the effect RIPPLE Africa had on the area it works in. I have not volunteered for charities before but I could tell that this charity was different. "Giving a hand up not a hand out" is very important and if you come you can clearly see the benefits this has on the people in the area.
It took me a while to find exactly what I wanted to do. As a middle school teacher I was comfortable working in both Primary and Secondary, though some of the mathematics they learn is of a much higher standard than that in the UK at the same stage. I worked in Secondary and Primary schools and was able to support teachers in a variety of different subjects. After a month or so I decided I wanted to see more of the Primary schools as we were beginning to develop some resources to help support the classes which do not have teachers. I continued to work with one of the teachers at Kapanda and on Monday mornings we would create PowerPoint presentations together, adapting information on slides into activities so that the lessons did not turn into lectures for the students. IT lessons are always welcomed with teachers and students.
Both Ilka and I knew we did not want to spend our time teaching in the classroom as this is not sustainable as when we left we would leave nothing behind. The teacher will often ask you to teach for them but it was important for us to explain to them we were not there so that they could have "time off". We explained that we wanted to help support the teaching and help the development of the learners. We ended up observing some of the teaching, giving feedback and then letting the teachers watch some of the methods we thought might help. After this we developed some activities that would support the independent learning of the pupils and would mean that the children could continue to learn when a teacher was not present, which is more common that not in some of the schools.
One of the classroom blocks
Life on the bike is great. If you are into fitness and fancy getting up early in the morning to avoid the heat of the day, there are two good cycle routes; one heads south for 25km, turning around just after Kwiri Mountain (50km in total) and the other heads north for 15km turning around at the Makuzi Lodge sign (30km in total). Sunrise is spectacular and the mornings are one of my favourite times of day as you really could just appreciate the beauty of the region of Malawi. As well as cycling you can set the challenge of hiking up Kwiri Mountain which is the highest hill you can see from Mwaya beach when you look south. It doesn't look too much but when you combine the constant steep terrain with questionable paths and the October heat, it can be challenging. It was a great morning out and I would advise asking Dan about it if you are interested in hiking.
Beautiful cycle to work through the cassava fields!
After a few weeks lots more people started to arrive and if you have some time when Geoff is here you get some really wonderful treats, meat being the main one! As a big meat eater I was concerned I would crave it while I was here but the food is so good that I didn't even notice I wasn't eating it! Geddes, Fabiana and Martha really are amazing cooks and love showing you and telling you how they make all their dishes. You may choose to go to Kachere Kastle for drinks and lunch; it is a good distance to cycle to and Kate and Russ are very welcoming.
Mwaya Beach dinner deck
In the middle of my stay I got the opportunity to go down south with Nikki (the Volunteer Coordinator) to see some of the projects she worked on before working for RIPPLE Africa. The contrast between the north and south is huge and it was very sad to see how little food was available for the rural communities around Zomba. The day I spent in the Domasi area was one of the best days I had in Malawi; I learnt a lot about the culture of this area and even saw some traditional Malawian dancing performed by a group of men from the village. Afterwards they gave Nikki and I a short lesson, you need a lot of coordination to perform the dances that we were taught!
Having never been to Africa before this has certainly given me the Africa bug. Four months at Mwaya Beach is just not enough time to experience everything you want to experience and I feel I could get to know the people here even more if I stayed longer. Malawi really is the "Warm Heart of Africa". I have felt safer here than I do at times in the UK. You greet everyone you pass and the Malawian smile is contagious! The appreciations and gratefulness shown by everyone I have worked with has been overwhelming.
I have felt like part of a family while I have been here; a family who accepts each person for the individual they are. The Malawian sense of humour is contagious, everyone loves jokes and you rarely go through a day without hearing uncontrollable laughing from various members of staff. Being at Mwaya Beach has exceeded anything I could ever have imagined, the understanding of the Malawian culture and why it is considered the "Warm Heart of Africa". I cannot praise RIPPLE Africa enough for the work they have done and the way in which they do it. They have empowered and educated the local people, giving them the confidence to work hard to help improve their country.
Some small things to do while you are here:
Have a cold fizzy drink in Matete while talking to the locals
Dance outside the shops in Matete with some of the local children
Eat mandazi- Kandi mandazi are the best!
Cycle at sunrise
Cycle through the Cassava fields along the track by Mr Longway's house in late afternoon
Use the library (a great resource) and read to children if they are hanging around
Visit Kachere or Kandi market
Swim at sunrise
Visit the Lowani sewing group with Esther
Home – Chalet 2
Matete shops
Natasha (September 2016 – December 2016)