Recent volunteer Kate Morgan has written a story about her time at Mwaya which is reproduced below. Stories written by other previous RIPPLE Africa volunteers can be found on the Volunteers' Stories webpage.
I arrived at Mwaya at the beginning of February with little idea of what to expect. As a newly qualified GP from the UK I was somewhat apprehensive about what I would find in terms of the healthcare setting and what would be expected of me as a doctor! Luckily everyone at Mwaya welcomed me with open arms and we had a gentle and thorough induction from Dan to ensure I wasn't thrown in the deep end.
After spending the first few weeks exploring the local clinics and sitting in with the clinicians, I felt comfortable to begin my own clinics with a translator and support from the medical assistants and clinical officers. GPs do not exist in Malawi and there was some feeling that as a fully qualified doctor I should be capable of most surgical procedures and be spending all my time at the hospital! Luckily I was able to work to my level of experience and the local clinicians were interested to hear about the role of the GP in the UK and elsewhere.
I learnt a great deal from the clinics and saw some interesting cases. Although I could offer no more in terms of investigations or treatment than the local clinicians, I felt patients did benefit from spending more time with me than they were used to and having a more thorough consultation and examination which was frequently appreciated. Also, although often it was me asking questions about the management of malaria or a tropical skin complaint, sometimes I would be asked advice about a shoulder injury or unwell patient ensuring a useful transfer of skills.
In addition to the local clinics, I also spent some time at Chintheche and Nkhata Bay hospitals. It was very interesting to join the clinical officers on the ward rounds at Chintheche and meet the doctors at Nkhata Bay. I saw a few interesting cases and it was interesting to compare the facilities at the 50 year old Chintheche and brand new Nkhata Bay.
It was also a good opportunity to spend some time in Nkhata Bay for shopping and chilling out at the lodges along the lake for a lovely long weekend. I also managed to get a great curry at the indian restaurant in town!
Along with clinical work at the local health centres and hospitals, I also spent some time with some of RIPPLE's group projects. It was really good to be able to mix my experience here. I spent some time with the disabilities groups advising parents and children about any medical concerns and it was really enjoyable getting involved with some fun games and art work! I also helped out with the sex education groups at Mwaya primary and Kapanda secondary schools. Initially I was a bit apprehensive about facing a whole classroom of kids as I have zero teaching experience! However, I really enjoyed it and we certainly got into some interesting discussions at Kapanda! We also turned up in the middle of a Friday afternoon school disco at one point which was a great highlight, although my dancing needs some improvement! Other highlights outside clinical work included some lovely relaxed afternoons with adult literacy and at Lowani with Esther's sewing group.
Mwaya beach itself is a wonderful base. The chalets and beautiful lakeside location are a lovely place to relax after a busy day. All the staff are an asset to RIPPLE. It is lovely to come back and chat with Arnold, the cooks or whoever is around and I will miss everyone here. They have been friendly, helpful and really enriched the experience. In addition, the large community of cats (and intermittent fresh kittens!), monkeys, turtle, one mega crocodile and a black mamba certainly provide extra entertainment! I also enjoyed the sometimes ferocious overnight thunderstorms, beautiful sunrises and hanging out with kids on the beach. Michek a particular favourite!
Outside Mwaya, we are perfectly located to enjoy other activities along the lake. Kande beach lodge was a lovely escape and has a perfect stretch of beach to relax on along with a bar and good food. Kachere Kastle however must be mentioned as a luxurious oasis. We spent a few lovely days relaxing by the pool and enjoying the amazing food and hospitality of Kate, Russ and their dogs. The cinnamon buns come highly recommended! Trips to Nkhata Bay and Mzuzu were also great opportunities to shop and explore! Myself and another couple of volunteers also attempted Mt Kuwirwi. It was a fair hike and the views from the top were beautiful.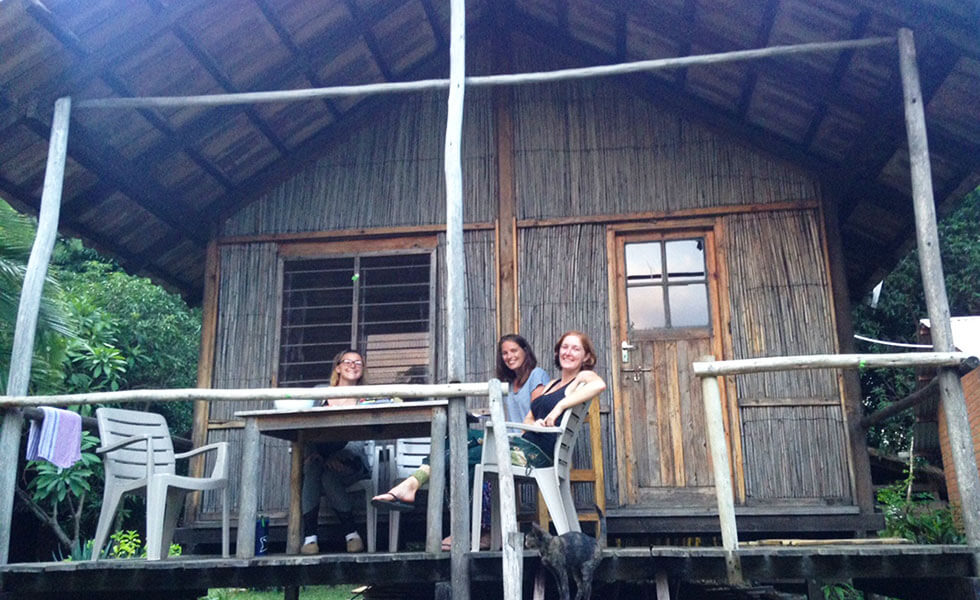 Overall, the RIPPLE experience has been amazing. I feel I have learnt a lot and gained a fair few friends along the way. Malawi and Malawians have really lived up to the 'Warm Heart of Africa' saying. Hopefully I have made some small difference where I can. I hope the charity goes from strength to strength and hope to come again in the future for some more volunteering or a visit.
Kate Morgan (February – April 2017)