This is RIPPLE Africa volunteer Sue Morgan's third blog
Weekend Breaks Are Great!
When you have worked hard all week, you deserve a little pampering … of course, we are already beautifully pampered by the Mwaya crew but it is still always good to have a change of scenery. So far, we have tried out two local destinations easily reached by public transport: Nkhata Bay and Kande Beach.
To get to Nkhata Bay took us about three hours travelling by minibus which is an experience in itself. The buses are very friendly and the people are just delightful as long as you are prepared to share space with a live chicken, farm plough and twice the number of people the vehicle was designed to carry! Once in Nkhata Bay, we made our way to Mayoka Lodge which was recommended as a great place to stay. It is a fair way out of town and an uphill slog, especially on a hot day, but when you get there the situation and views are spectacular! I will have a long lasting memory of my room that was perched on the edge of a cliff and the best four poster bed in a really comfortable room that had a fan/bedside lamp and a small balcony! The beach was very rocky so swimming involved quite a lot of slipping and sliding but, once in the water, it was gorgeous. Probably the only negative comment is that the noise from the bar got progressively louder as the alcohol level increased, and we didn't get much sleep that night! The next day was spent swimming, doing a little shopping, and then having a great lunch at Aqua Africa before heading back to Mwaya.

A view of the beach

Check out the bed!
Kande Beach is much closer and can be easily reached by minibus (matola), cycling or a walk along the beach (except in the rainy season). It has a beautiful sandy beach and offers the opportunity to go snorkelling, diving, kayaking, or just relaxing in a hammock or at the bar. The rooms are pretty basic but very comfortable, and there is a well-equipped reasonably priced cafe for snacks and meals. Becky and I spent the first day swimming, lazing in the hammocks and getting sunburnt! A highlight was playing Bao with some locals under the shade of a mango tree. Day 2 started a bit grey so a slow start to the morning, but we had already arranged to go snorkelling in dugout canoes so, as soon as it brightened up, off we went! It was quite the experience balancing on the dugouts, especially as the fishermen who were rowing made it look so easy! The snorkelling around Kande Island was just wonderful and well worth the trip there. Coming back it was a little choppy, and my canoe rolled with me ending up in the water! It was very safe and laughable but getting back into the canoe was a challenge until one of the fishermen, who was probably about 20 years old, just pulled me from the water, no problem – we then all swapped canoes and carried on, amazing! The weekend ended with us getting a very windswept lift from Kande in the back of a Toyota pickup along with way too many other people. I am already looking forward to a return trip to Kande Beach!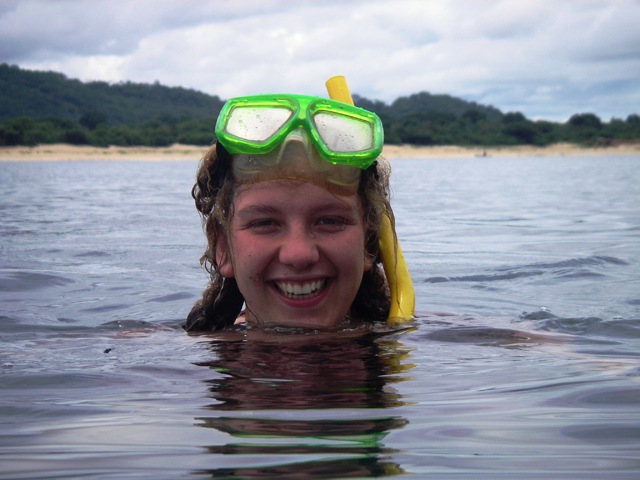 Becky's first time snorkelling!

How to relax