Many of you know that one of our most important environmental projects is Fish for Tomorrow – a community led fish conservation project, which is proving extremely successful in the parts of Nkhata Bay District where it operates so far.
In Lake Malawi, high population growth and a lack of effective enforcement of national laws governing the types of nets which can be used for fishing have led to huge reductions in fish stocks over the last 20 years. In Nkhata Bay District, fish catches have fallen by up to 90% according to the local fisheries department. Many fish species in Africa's third largest lake are now classified as endangered or threatened. If this trend continues, fish (which constitutes over 70% of animal protein consumed in Malawi) will become more and more scarce and people will struggle to catch enough fish to eat.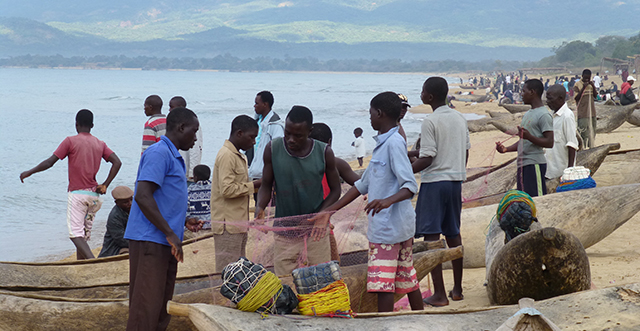 Fishermen on Lake Malawi
Our project empowers local communities to take ownership of the fish in their area, introduce local bylaws restricting net sizes and operate a 3 month closed season to enable fish to breed and grow. We now have fish conservation committees operating along 80 kilometers of the lakeshore and fishermen in the areas protected by these are reporting larger catches of bigger fish, meaning that they are making more money and are able to provide more food for their families.
In April, RIPPLE Africa's CEO, Geoff Furber, presented the project to Malawi's Director of Fisheries, Alex Bulirani and his team and John Balarin of Pact, an NGO working on fish conservation in the south of the country. The Director was really impressed and agreed to come and see for himself the impact that the project is having in Nkhata Bay. Supported by Pact, the Director spent three days with us accompanied by District Fisheries Officers from other parts of Malawi and senior chiefs from Mangochi and other southern districts.
Director of Fisheries, Alex Bulirani, John Balarin of Pact and RIPPLE Africa's CEO, Geoff Furber
Together, we visited 5 fish breeding areas (Chawaza, Tukombo, Chiwana, Ntchindi and Msuli) and met the fish conservation committee members and chiefs who told the visitors how the project operates and what the benefits are to their communities. All the visitors were blown away by the commitment and enthusiasm of those they met and the results that they are achieving and the Director of Fisheries described our approach as magic!
Inspecting mesh sizes of nets at one of the breeding areas
All are now keen to see our approach adopted in other parts of the lake and we are now working closely with Pact and the Director of Fisheries to find funding to enable this to happen quickly. Quite an achievement for a small charity from Buckingham to be making magic happen for fish in Lake Malawi!
Read more about our Fish Conservation Project here.