TREE PLANTING IN MALAWI, AFRICA
Our tree planting project is one of the largest and most successful tree planting projects in Malawi, providing a long-term solution to fighting deforestation in Africa caused by the destruction of indigenous forest. For every 10 trees we plant they absorb one tonne of carbon.
Rapid population growth
Acres of forest being cleared for agriculture
As forests disappear, mass erosion contributes to flooding
No ownership by the local community
The government is under-resourced
Plant quick-growing trees that can be coppiced for firewood
Work with community tree planting clubs, local farmers, schools and individual householders to support them in planting and growing these trees
We encourage farmers to plant fruit trees too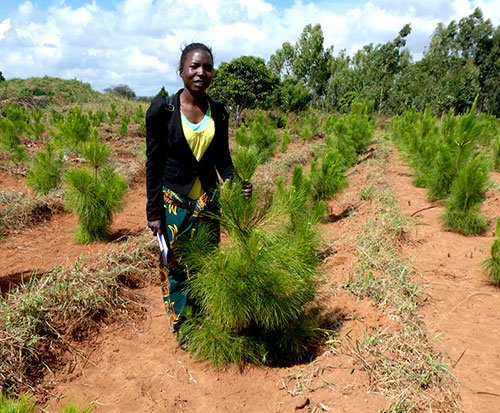 Do you want to protect trees by planting trees? Learn more >
MILLION TREES HAVE BEEN PLANTED SINCE 2004
TREES PLANTED AVERAGE BY EACH FARMER
FARMERS AND COMMUNITY GROUPS INVOLVED
Tree Planting in Malawi, Africa
Achievements and Future Plans
We have helped communities plant 21 million trees and we manage a specialist community fruit tree nursery. From this, thousands of households benefit from fruit trees each year. Our aim is to continue supporting the communities to plant trees and educating them on the benefits of investing in tree planting for the future. We will combine household tree planting with the provision of our Changu Changu Moto fuel-efficient cookstoves.
We identify farmers and community groups who are able to grow seedlings and can care for the trees. We then provide them with relevant equipment and training. We work in partnership with communities and government departments, and educate the local communities on the benefits of conservation.
£5 could plant 20 trees and protect existing trees in a forest
Tree Planting, Forest Conservation and Carbon Offsetting
Our tree planting and forest conservation is NOT a verified carbon offsetting project but many people have asked us how much carbon would they be offsetting by planting trees with us in Malawi. A realistic starting point is that one tree absorbs about one tonne of CO2 over a lifetime of 100 years – that is an average of 10 kg per year.
For our calculation, we are taking the life of the tree as 10 years although it will be considerably longer than that. This would mean that, over the 10 year period, one tree would absorb 100 kg of CO2 and so 10 trees would absorb one tonne of CO2.
In addition to this, for every tree that is planted we are protecting, on average, three indigenous trees through our Forest Conservation Committees. Contact us for more information.
Title
Your content goes here. Edit or remove this text inline or in the module Content settings. You can also style every aspect of this content in the module Design settings and even apply custom CSS to this text in the module Advanced settings.
Why It Is So Important
Tree Planting
Ripple Africa's tree planting project is one of the largest and most successful tree planting projects in the north of Malawi. We provide a long-term solution to fighting deforestation in Africa caused by the destruction of indigenous forests.
The tree planting project directly fights this by planting thousands of quick-growing trees with farmers, schools and community groups, and these provide a sustainable source of firewood and timber for local people.
High population growth has been the prime cause of deforestation across Malawi and has led to soil degradation, landslides, perennial rivers drying up, rain shortages and depletion of wildlife. Wood is taken from indigenous forests for building and to use for cooking. Increasing numbers of people have become involved in the production and sale of charcoal, particularly in areas near towns, further decimating the remaining forests. Trees are also cut down for firewood and timber used for housebuilding or are burned to make space for growing crops.
Ripple Africa's tree planting project is not only about planting trees in Malawi, but also about changing the way people think about their natural environment and the destructive and unsustainable actions which are causing deforestation. By involving farmers, community groups and schools, Ripple Africa aims not only to encourage more tree planting in Africa, but to slowly change how people value and use all their natural resources.
Ripple Africa first started to address this issue in the area around its base in Nkhata Bay District, providing local communities with quick-growing trees which provide an immediate benefit to the community. The trees can be used like a crop by coppicing them (cutting off the branches for firewood without felling the whole tree), and then they grow back quickly to provide more wood year on year.
However, we are now increasingly working in Mzimba Districts where deforestation is much more severe. Here we are working more with farmers who are prepared to invest a considerable amount of time (it takes up to 15 years to grow a tree large enough to sell for timber) and their own money to ensure that larger numbers of trees can be grown successfully.
Fruit Trees
Ripple Africa started its fruit tree project in 2007 and grows improved citrus, mango, guava, papaya and avocado trees in Nkhata Bay District, Malawi. While some fruit trees grow naturally in Africa, trees are often poorly managed, and some fruit trees (banana trees in particular) suffer from viruses which mean they do not produce fruit. Ripple Africa has established improved fruit trees which:
produce a greater crop yield
have a stronger resistance to viruses
are of a much better quality
All fruit trees are for the benefit of the community and, in time and with proper care, will produce enough fruit for community members to eat and to sell for profit.
Any kind of tree planting project is hugely important to the environment in Malawi; however, fruit tree planting in particular creates a natural incentive for people to protect their trees as a fruit tree provides both food and income.
Ripple Africa's fruit tree planting project is also an important way of improving nutrition. In Malawi, malnutrition is a large cause of death among children, and poor diet can lead to general ill health and disease. Many people in Malawi go hungry and survive only on a staple carbohydrate called nsima (a porridge made from either maize or cassava), severely lacking many of the important vitamins and minerals which fruit can provide. Free access to a variety of fruit at household level improves the health of vulnerable rural families.
Lastly, because Ripple Africa's improved fruit tree project produces fruit of a higher quality, fruit from one of Ripple Africa's fruit trees is highly competitive at market, especially some varieties such as oranges and tangerines which are rarely grown in the area. The value of access to a sustainable income stream for a poor rural family cannot be underestimated!
What We Have Achieved
Since the project began in 2006, we have helped communities plant 21 million trees in Nkhata Bay, Nkhotakota and Mzimba Districts in Malawi, Africa.
We manage a specialist community fruit tree nursery and we have planted thousands of improved fruit trees including mango, orange and papaya. Thousands of households benefit from fruit trees each year.
How We Work
Ripple Africa's environmental staff work in partnership with District Forestry staff to identify farmers and community groups who are able to grow seedlings and can care for the trees as they grow to maturity. Local climate (rainfall, temperature, etc.) is taken into consideration when deciding on the species of trees to plant in each area.
We provide the farmers and groups with just enough seeds for the area where they are going to plant them out (there is no point planting trees too close together as they will not thrive) and spend time teaching them how to plant and care for them effectively to ensure that they get the maximum number to germinate and grow. The farmers and groups are provided with plastic tubes in which to plant the seeds and with watering cans and other equipment that they will need. We visit the tree nurseries regularly to build up a relationship with the growers, teach them how to care for the trees, monitor the success of each tree nursery and help troubleshoot when problems occur.
Then we work with the farmers and groups to teach them how best to prepare the land where the trees will be planted out and how to ensure that they grow most effectively once they are in their permanent location. Regular visits ensure that we are able to help maximise the yield from the trees, and we monitor the numbers of trees that are successfully planted out.
Although giving the seeds and the equipment to farmers could be seen to be at odds with our 'providing a hand up not a hand out' ethos, the farmers themselves have to invest many years of effort to ensure that the trees thrive before they are able to make an income through selling the wood. The provision of the seeds is only the starting point.
Our fruit trees are grown from infancy in Ripple Africa's special fruit tree nursery at Mwaya so that Ripple Africa staff can manage the delicate budding and grafting process. This requires specialist knowledge, and we have trained local people to take on this role. From there, fruit trees go to one of the following:
They are planted in Ripple Africa's improved fruit tree orchards at Mwaya.
They are given to community groups whom Ripple Africa help to grow, plant, and look after their fruit trees.
Fruit trees are given to farmers and their families as part of Ripple Africa's Tree Planting project.
Fruit trees are given to local Primary Schools to plant and teach students the importance of tree planting and the environment.
The Project's Future
We intend to increase the numbers of trees grown in Malawi by working with more and more farmers who are able to grow much larger numbers of trees, whilst still working with schools and small community groups.
Malawi is facing a potentially catastrophic shortage of wood, and the cost of wood for building and firewood is rising to reflect the shortage of wood in the country. By helping farmers grow fast-growing pine and eucalyptus which are in high demand for building – and other fast-growing species used for firewood – we are hoping to reduce the pressure on indigenous forests.
We are linking our Tree Planting project with our Forest Conservation and Changu Changu Moto (fuel-efficient cookstove) projects to reinforce the importance of conservation and encourage communities to make more effective use of their remaining natural resources.
With these ongoing projects, we are doing our best to reduce deforestation in Malawi.
This project addresses the following Sustainable Development Goals: