SECONDARY EDUCATION IN MALAWI, AFRICA
Ripple Africa has built Kapanda Community Day Secondary School near to the primary schools we support so that students don't have to walk 15km each way to the other nearest secondary school. The school was handed over to the government to run but we continue to support Kapanda Secondary School by building new classrooms and facilities and improving existing ones.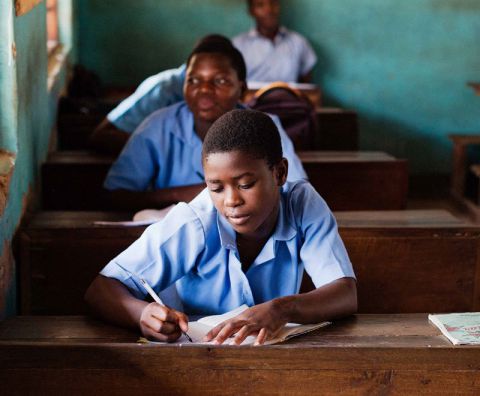 Secondary Education in Malawi, Africa
Achievements and Future Plans
We have built two double classroom blocks, a Physics Laboratory, a Computer Laboratory, five teachers' houses, a teachers' office, toilets, a Girls' Dormitory for 56 girls, a kitchen and a dining and study block. We have also provided mains electricity to the school, text books and desks. We continue to support Kapanda Secondary School as funding allows, and build more teachers' houses to ensure that the school is able to attract the best quality teaching staff.
We work in conjunction with the District Education Department and the headteacher. The needs are assessed and support is provided where most required.
£25 could buy three secondary school textbooks
Title
Your content goes here. Edit or remove this text inline or in the module Content settings. You can also style every aspect of this content in the module Design settings and even apply custom CSS to this text in the module Advanced settings.
Why It Is So Important
Although primary education in Malawi is free and there are minimal costs to parents for uniforms and resources, secondary education in Malawi has to be funded through school fees. These are often to high for families to pay and therefore not every children gets the opportunity to go.
However, access to quality secondary school education in Africa is a critical factor to the development of the continent and in our case, in Malawi too. Only 38% of children in Malawi transition from primary to secondary school – (36% for girls and 41% for boys). This is partly due to expensive school fees, but is equally an issue of local access. There are fewer secondary schools than primary schools meaning that in rural areas, distances that students have to travel to reach school are greater. Before Ripple Africa built Kapanda Community Day Secondary School, students in the local area had to walk 15km each way to attend the nearest secondary school and were in desperate need of a local secondary school of their own. Children are selected for secondary school based on their primary school exam results, meaning that for those who didn't perform well, there is no opportunity to attend secondary school.
Ripple Africa began to raise money for Kapanda in 2007 and, by March 2008, the school had opened its doors. Kapanda Secondary School has all four classes from Form 1 to Form 4, and there are 10 full-time government employed teachers at the school. The school was formally taken over by the government in 2013 in a ceremony attended by the District Education Manager and other dignitaries from the District Council and members of the local communities. Ripple Africa continues to support Kapanda by providing resources as needed, and our overseas volunteers provide valuable assistance to teachers and students in the classroom. Over 250 students attend the school and the school also offers education to a further 200 pupils through the Open School, an option for people who were unable to attend secondary school through normal routes which offers classes in the afternoon when the day school finishes.
What We Have Achieved
In order to support secondary education in Africa, we built built Kapanda Secondary School. This has been a significant venture and is Ripple Africa's most important educational achievement to date. Ripple Africa has provided mains electricity to the school and has constructed:
two double classroom blocks which provide four large classrooms and have recently carried out essential maintenance on these
a Physics Laboratory – we worked in partnership with the Institute of Physics to design and build the laboratory and train local teachers
a Computer Laboratory equipped with 60 desktop computers – we worked in partnership with IT Schools Africa to design and build the computer laboratory
five teachers' houses – a practice adopted throughout Malawi and an essential element in attracting good teachers to the school
toilet blocks
teachers' office, and a secure storeroom
a Girl's Dormitory which allows 56 girls to live on site allowing them to study without having to travel long distances and do domestic chores
a Kitchen to prepare food for the girls in the dormitory
a Dining and Study Block for the girls living in the dormitory – this is also being used as a school library
outdoor facilities, including a football pitch and a netball court.
How We Work
Ripple Africa have built up an excellent relationship with the District Education Manager and the Headteacher at Kapanda Secondary School to ensure that we work in partnership with them to respond to local need and provide simple solutions to the problems that they identify.
The Project's Future
Building more teachers' houses would entitle Kapanda to more government support, and would make the school one of the best Community Day Secondary Schools in Nkhata Bay District. Although the necessity for teachers' houses might seem strange in the UK, the reality is that, without more teachers' houses, the school cannot attract new teachers to the area, and the school will never be able to compete for the best people to help the local children. A teacher's house is as important as the teachers themselves in being able to provide for the students.
We will continue to help maintain the facilities at Kapanda.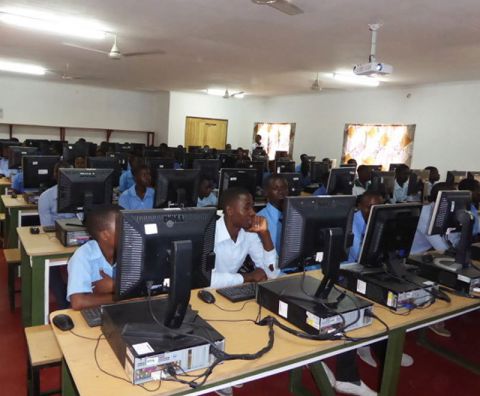 This project addresses the following Sustainable Development Goals: