PRIMARY EDUCATION IN MALAWI, AFRICA
We support six government-run primary schools in and around Mwaya in Malawi. Our aim is to improve the learning environment for the children by reducing class sizes through building new classrooms and funding additional trainee teachers.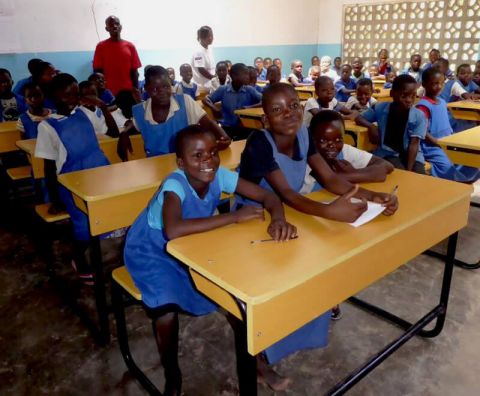 Primary Education in Malawi, Africa
Achievements and Future Plans
We support six local primary schools. We pay the salaries of four additional Malawian trainee teachers and have built six double classroom blocks, menstrual toilets and a teachers' office. To improve the learning environment for the children, we have provided desks and books, and we have renovated and painted classrooms and toilets. We will continue to support the six primary schools with similar projects as funding allows.
We work in conjunction with the District Education Department and the local headteachers. The needs of each school are assessed and support is provided where most required.
£12 a month could fund Life Skills lessons for a primary school class
Title
Your content goes here. Edit or remove this text inline or in the module Content settings. You can also style every aspect of this content in the module Design settings and even apply custom CSS to this text in the module Advanced settings.
Why It Is So Important
Primary education in Africa is really important and Ripple Africa is supporting six local primary schools, has built several classroom blocks, and pays the salaries of four trainee teachers. Most of our work is to reduce class sizes – there can be over 100 pupils in each class – and provide a better learning environment for the children. Our overall aim is to increase the number of children who achieve good results in their exams and proceed to secondary school.
Ripple Africa supports primary education in Malawi by helping six primary schools in the villages of Mwaya, Matete, Mazembe, Kachere, Kazando and Chiomba.
The issues we are tackling are serious ones.
Underfunding of primary schools by the government, resulting in a lack of resources including teachers, books, desks, and classroom blocks.
Lack of teachers and suitable buildings which leads to very large class sizes. Between the six primary schools which Ripple Africa helps, there are 47 government teachers for 3805 students – a student teacher ratio of 81:1 without our trainee teachers and 73:1 with them. So we do make a difference! It used to be 105:1 but the government has supplied more teachers as well so things are getting better. At Kachere Primary School, which is the largest school, there are 11 government teachers for over 1,000 students, which makes a student to teacher ratio of 91:1.
Students who don't learn in permanent classroom blocks either study in temporary structures or are taught outside, which can make teaching in the rainy season impossible.
Most Malawians will never receive any education beyond primary school, so it's essential to thousands of people that primary school education is as good as it possibly can be.
Ripple Africa is responding to the challenges facing primary education in Africa by:
providing vital resources, such as desks, to improve the general learning conditions for these children
paying for trainee teachers — Ripple Africa supplements government teachers by providing additional trainee teachers to reduce classroom sizes
actively encouraging its trainee teachers to apply for proper government teacher training so that more trained teachers can be employed at the primary schools. This also means that the government will pay their salaries, and Ripple Africa can then employ other trainee teachers
carrying out important building work for these primary schools to improve facilities, in particular providing new classroom blocks.
What We Have Achieved
Ripple Africa is paying for four additional Malawian trainee teachers, and our overseas teaching volunteers provide valuable help in the classroom as volunteer teaching assistants, sharing their knowledge and skills with the existing teaching staff.
Ripple Africa has built two double classroom blocks at Mwaya Primary School which provide four additional classrooms, as well as a teachers' office and new toilets. We have also built a double classroom block at Chiomba Primary School. At Matete Primary School and Mazembe Primary School we have built both of them a new basic double classroom block, maintained the other classrooms and built a teacher's office.
Through Ripple Africa's partnership with our American not-for-profit partners Ripple Africa, Inc., the charity has also helped build two double classroom blocks at Mazembe Primary School, and has renovated and painted existing classrooms at three schools.
We have recently constructed menstrual toilets at all our primary schools to enable girls to stay in school when menstruating and we have rebuilt all the toilets at Mazembe Primary which were no longer safe to use.
We have also installed solar lights for Standard 8 classrooms at four primary schools to help older students to revise in the evenings.
How We Work
Ripple Africa has built up an excellent relationship with the District Education Officer and with the headteachers of all the local primary schools. We work in partnership with them to respond to local needs and provide simple solutions to the problems that they identify.
The Project's Future
Ripple Africa will continue to provide resources and pay trainee teachers' salaries as long as funding allows. 
We hope to build more classroom blocks for the six primary schools in Malawi and will continue to repair and maintain existing classrooms if required.
We are hoping to build more teachers' houses at the six primary schools to attract more good quality teachers to our schools. This is vital in a poor rural area such as ours.
This project addresses the following Sustainable Development Goals: