FISH CONSERVATION IN MALAWI, AFRICA
We started fish conservation in Africa in 2011 in Nkhata Bay District of Malawi.  Called Fish for Tomorrow, we built on our experience of community led forest conservation in Malawi. We developed a simple approach which we trialled along a 40 km area of lakeshore in the District. It was so successful that communities wanted this approach and we are now working in five Districts and protect 736km of lakeshore.
Rapid population growth
Increased number of fishermen
Overfishing resulting in poor fish catches and biodiversity loss
Fishing with nets made from hundreds of mosquito nets
No ownership by the local community
No enforcement
The government is under-resourced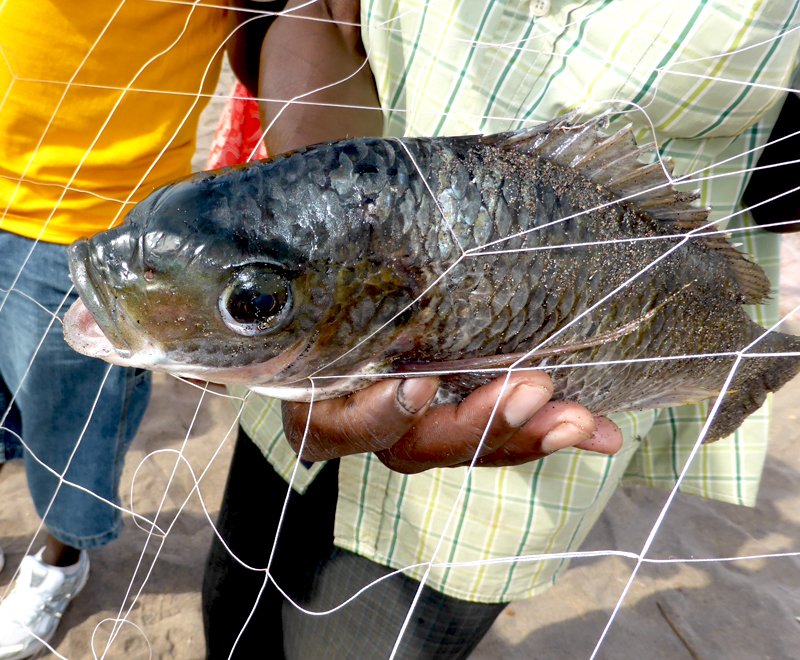 Local ownership
Beach Village Committees established
Simple bylaws adopted and enforced
Communities confiscate illegal fishing gear and fine fishermen
Fish breeding areas are protected
Fishers catch larger fish with larger meshed nets
More fish, bigger fish, more money
Fish Conservation in Malawi, Africa
Achievements and Future Plans
We have established 474 Beach Village Committees (formerly known as Fish Conservation Committees) who are protecting Chambo fish breeding grounds along 736km of shoreline. A fishing closed season has been adopted and fishermen are using larger meshed gill nets and catching bigger fish. Numbers of migratory fishermen have been reduced due to the new local permit fee. However, there are still fishing Districts in Malawi which haven't yet benefitted from this community initiative.
We bring together all stakeholders to agree a plan for the district. New fishing bylaws are drawn up, volunteer Beach Village Committees are established and are empowered to manage the fishing in their area by making community members aware of the local bylaws, confiscating illegal nets and fining offenders.
£25 a month could help protect
a fish breeding area
Title
Your content goes here. Edit or remove this text inline or in the module Content settings. You can also style every aspect of this content in the module Design settings and even apply custom CSS to this text in the module Advanced settings.
Why It Is So Important
Around 70% of people in Malawi live below the international poverty line. The population has grown from five million in 1975 to over 18 million today. This has put huge pressure on all Malawi's natural resources.
Lake Malawi, the ninth largest and most bio-diverse lake in the world, covers 20% of Malawi's area. However, in recent years, overfishing has led to reduced fish stocks. In an effort to increase the number of fish that they catch, fishers have been using longer nets with smaller mesh sizes, often made from malaria prevention mosquito nets.  These nets catch fish at a very small size before they are fully grown and able to breed. Many fish species, including two types of the popular and once commonly caught Chambo (Oreochromis lidole and Oreochromis karongae) are now classified as endangered or vulnerable. The problem has been exacerbated by the lack of government funds to enforce fishing regulations.
Fish is Malawi's most commonly eaten animal protein and the total weight of fish being caught has declined dramatically in recent years. This has serious nutritional implications for vulnerable groups such as pregnant and nursing women, young children and HIV/AIDS sufferers. The current situation is also unsustainable for the 60,000 fishers in Malawi. They rely on income from fishing for their livelihoods and are finding it harder to catch enough large fish to sell. It also impacts the 500,000 other businesses that rely on fishing (fish processors, boatbuilders, net salesmen, etc.) and community businesses such as shopkeepers who depend on a thriving local economy.
Ripple Africa's Fish Conservation project is important because it tackles this national problem by empowering local communities and officials to take control of the situation in their own areas. It is a sustainable approach both environmentally and financially.
What We Have Achieved
Ripple Africa started its Fish Conservation project (called Fish for Tomorrow) in 2011, building on its experience of community forest conservation in Malawi. We developed a simple approach which we trialled along a 40 km area of lakeshore in Nkhata Bay District. Working in partnership with fishing communities, their leaders and the District Fisheries Officer, the project slowly began to produce results. Fishers reported that they were starting to see fish species which they had not seen in the lake for many years.  They also said they were catching larger fish which they could sell for higher prices, thus increasing their family income.  In 2016, the project was expanded to cover all of Nkhata Bay District. Local communities all along the lakeshore in this District, supported by their leaders, are now empowered to control damaging fishing activity, regulate closed seasons and protect fish breeding areas. Simple, cost effective community education and ongoing support underpin the project.
Also in 2016, we extended the project into Nkhotakota District and in 2018 into Salima District. We recently expanded into Dedza and Mangochi Districts too. We are now helping to protect more than 736km of shoreline. From nine years of lessons learnt, we have developed a functional, tried and tested model which can be rolled out across the whole of the lake. It can be replicated in lakes and coastal areas in neighbouring countries too.
District Bylaws were signed in Nkhata Bay District in May 2016, and in Nkhotakota District in May 2018. Over 3,000 community members are now members of active Beach Village Committees, confiscating illegal nets, protecting breeding areas and enforcing the closed season.
We are now keen to secure funding to enable the project to be spread into the other lakeshore Districts.
How We Work in Each District
Ripple Africa works first with District Fisheries Officers and their teams. We also work with Traditional Authorities (Senior Chiefs) and local leaders such as District Councillors, District Executive Committee members, Police and District Judiciary to ensure that they have a full understanding of the project and are in support.  The aim is to develop new District Bylaws for fish conservation which will be a legally binding document to which all key stakeholders are committed.
The bylaws include the following key items:
No fishing with mosquito nets at any time.
The introduction of a two or three month closed season during the Chambo breeding season.
Restrictions on fishing gear used in the open season – February to October – to ensure that only larger meshed nets are used.
Only local fishermen are allowed to fish with local permits.
No fishing within 1 km of the shore and islands, and Chambo breeding areas.
No fishing with drag nets (beach seine, lemu) and no fishing with trawlers.
Protection for all fish breeding areas to allow fish to breed and grow.
Then Ripple Africa works in partnership with District Fisheries teams to set up Beach Village Committees – formerly known as Fish Conservation Committees – (BVCs). These are local voluntary groups that represent the interests of the fishing communities, who will own the fish conservation project. They play a major role in the sustainable management of fish resources.
Each BVC has 10 members, which could include fishing gear owners, crew members, traders, farmers, processors and other non-fishers (e.g. shop owners) with an interest in fish conservation. At least three of its members should be women as women are the main fish sellers in Malawi. BVCs are empowered to confiscate illegal fishing gear and fine offenders. These fines are kept by the BVC to fund the costs of carrying out patrols and other activities. If the fines are not paid, offenders are passed to the police and risk imprisonment and much larger fines.
Beach Village Committee duties are to:
Educate the local community about the Fish For Tomorrow project so they understand the benefits of protecting fish stocks;
Check that all fishers are using recommended fishing gear;
Monitor beaches and fish breeding areas for illegal activity;
Fine illegal activity and/or confiscate fishing gear;
Make sure fishers observe the closed season;
Make sure all gear owners have paid for current government permits;
Issue and check local fishing permits;
Check that fish being sold in local markets or being processed is legal;
Make sure that only registered fishers are using their beaches;
Effectively manage a fund for the running of the committee with income from fines and local permits.
In each Traditional Authority's area that borders the lake/water body there is an Umbrella Beach Village Committee. This is made up of the chairmen of each BVC in that Traditional Authority's area. Their job is to make sure that all BVCs are working effectively and to provide guidance and support when needed. Ultimately, the Umbrella Beach Village Committee in each District are responsible for the success of the fisheries management in that District with support from District Stakeholders.
The Project's Future
The decline in fish stocks in the lake is an ever increasing problem, and word about the success of the project is now spreading to other areas. The Director of Fisheries is keen to see Ripple Africa extend this approach to fish conservation along the whole of Lake Malawi's shoreline. We are already being approached by other districts who want us to work with fishing communities in their areas to reverse their declining stocks of fish.
Our aim is therefore to expand the Fish for Tomorrow programme to cover virtually all of the lakeshore on the Malawian side of the lake, a distance of about 560 kilometers. We want to continue developing our existing Districts and use these as a training ground for people from other Districts to share in the lessons learnt and then each year expand into a new project area.
The project mainly involves changing people's habits and values from a destructive 'live for today' attitude to a more sustainable approach which is owned, understood, and applied by the local fishing communities. We are proving that this can be achieved but it takes many years of support, training and monitoring to achieve this behaviour change. Therefore we urgently need to secure sufficient funding to enable us to do this. Please help us keep this project going and growing!
This project addresses the following Sustainable Development Goals: