This blog is written by RIPPLE Africa volunteer, Nikki Luxford
Living in paradise has its pitfalls. The other week I was lucky enough to visit Usisya. I say lucky because not only is it challenging to reach but it is also beautiful, stunning, majestic…you really are in paradise.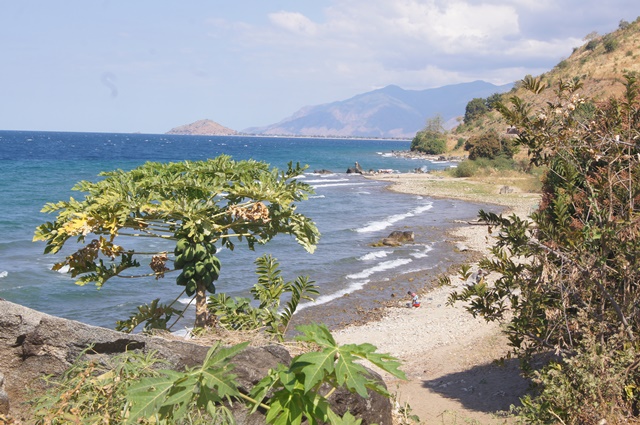 Paradise in Malawi
My motive for visiting was to spend a couple of days on the fuel-efficient Changu Changu Moto stove project, monitoring one of the coordinators and lead community volunteer for the area as they undertook their first Kitchen Performance Test.
The drive from home to Usisya itself took the best part of five to six hours and then once in Usisya we had another 15 minute drive before continuing for another 40 minutes on foot over rough terrain. Although I was pre-warned that I needed sensible footwear for the trip and I might add, I was wearing boots, I hadn't actually imagined it to be as remote as it was nor as challenging.

The start of the trek

Beaches in Paradise
Arriving at the first house, the location amazed me. It was built into the mountainside but had the benefits of stunning views over Lake Malawi. Speaking to the householder about collecting wood for using on the stove, she explained that she'd leave at 5am and return around 10am – and had to do this once a week.
This is considerably better than what it used to be like for her though. Before, when she was cooking on a three-stone fire, she had to collect a bundle of wood every few days whereas with her Changu Changu Moto she only has to go out once a week and the bundle can last her longer than a week.

The first house we came to

Lunch cooking on the Changu Changu Moto
These stories continued along the shoreline as we traipsed up and down the mountain, over rocks and through forests to reach the houses.

Some of the young residents living there
Every now and again we'd have a few properties together – which I have to say was a godsend as it allowed the legs to rest, but speaking to the householders no-one complained about the daily struggles and the extent of their remoteness from the rest of civilisation.
I guess when you have your vegetables and stable food growing in the field and fish in the lake, your family close by and the view of paradise, there's not that much to complain about.
Oh the simplicity of life!

Simplicity of paradise
If you'd like to read more about life in rural Malawi, Nikki has posted a number of blogs on her website.