This week's blog is written by Will Morgan, a RIPPLE Africa volunteer
'Timoneni' or 'greetings' from Malawi!
Although hard to believe as time has rocketed by, I have now been at Mwaya for six weeks. With a background in healthcare in the UK, I thought I'd write about my experiences of being a healthcare volunteer with RIPPLE Africa in Malawi.
Following a fascinating introduction to tropical medicine and the Malawian health service at the Nkhata Bay District Hospital (see James and Susie's blog next week), I have been based at the Kande and Kachere Rural Health Centres. Each Health Centre has a consultation room and a rudimentary delivery suite/ward and has a catchment area of approximately 20,000 people. Clinics are phenomenally busy with in excess of 150 patients attending each Health Centre every day to see either the Medical Assistant or nurse. In addition to oral medications, and depending on availability, intravenous drugs and/or fluids are available for particularly unwell patients who may need either a period of observation or transfer to a larger health facility. The Health Centres also host malnutrition/feeding clinics, under 5s clinics and anti-retroviral therapy clinics.

Welcome to Kachere Health Centre

Kachere Health Centre delivery suite/ward
Of the many conditions seen at the Health Centres, malaria stands out because of its extremely high incidence. Using the Malaria Rapid Detection Test (a pinprick test that looks similar to a pregnancy test), somewhere in the region of 70% of patients who attend clinic test positive for malaria. While this statistic may seem shocking, it demonstrates that the local population is generally well educated with respect to the myriad of presenting symptoms of malaria. This means that while primary prevention schemes aimed at reducing the transmission of malaria continue (for example the distribution of mosquito nets), those who do fall ill can now usually receive effective treatment before major complications develop.

Malaria testing in a packed waiting room
It is a privilege to have the opportunity to spend time with the Medical Assistants and nurses in this small corner of Malawi. They have taught me a great deal and through discussion of cases, I hope that they too have learnt something from me. Working in often challenging conditions and with very limited resources, they provide a truly remarkable service. The experience has been humbling and has certainly put working life in the NHS into perspective.
My time spent at Mwaya has not all been hard work and we are coming the end of another fantastic weekend. We have been joined by Geoff (the founder of RIPPLE Africa) and Tom (Anna's father) who have produced a remarkable number of consumable goodies from their luggage. On Saturday evening we enjoyed an after dinner cheese board which was complemented wonderfully by a drop of port. As if it couldn't get any better, and following an exhilarating swim in Lake Malawi at sunrise this morning, we sat down to a delicious cooked breakfast on the beach complete with bacon!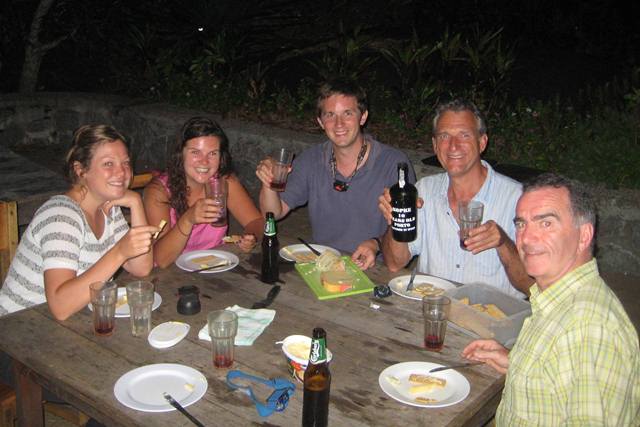 Cheese and port!

A hearty breakfast!
As I write, the sun is setting over Mwaya Beach which is now bathed in a wonderful golden light. It is my absolute favourite time of day and if I look out over shimmering Lake Malawi, I can just about make out the mountainous silhouette of Mozambique on the horizon. It really is a very special place.

Sunset at Mwaya Beach