Mwaya Mondays- Vol. 5 published on 9 July, 2012
By RIPPLE Africa volunteer Georgia:
"Hello! So this week started off with the new arrival of Toby – a 35 year old businessman on sabbatical from work, here to get away from London and experience life at the beautiful Mwaya Beach. Dan and Catherine returned from their travels, both doing a great job – Catherine collected an enormous amount of results to help further the Changu Changu Moto project, whilst Dan came back with an even bigger number of bikes!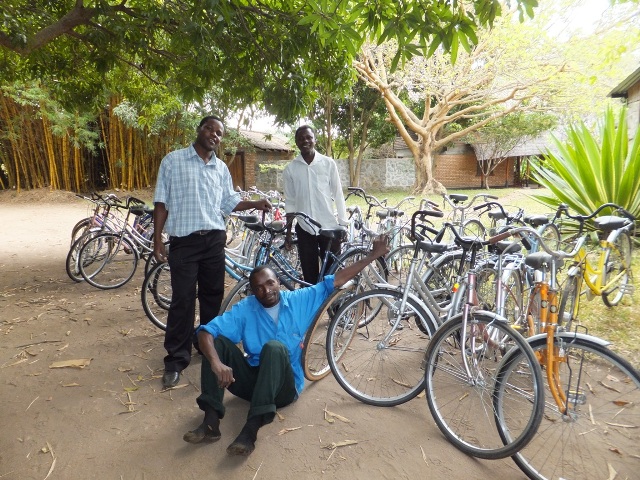 (Shortly after the above photo was taken, Arnold proceeded to knock each and every bike over like dominoes. Good old Arnold, what would we do without our rapid response!)
Also this week the mass Bilharzia treatment in primary schools took place. This has recently been set up by the government and still leaves a bit to be desired (to say the least)… you'd think it would be relatively easy to get the students to calmly line up and take a simple pill, however trying to control hundreds of school children flooding in from all directions was anything but easy, but nonetheless a great experience.
Friday brought a very different kind of day – Geoff and Force's day of silence! It started off with a very amusing breakfast with Dan and Morton (RIPPLE Africa Manager and Assistant Manager) who found it extremely funny to continuously ask Geoff and Force questions. The day was full of charades, hand gestures and a few frustrated faces – especially when no one knew what on earth Geoff was getting at. It was also the day Geoff had chosen to do lots of the filming for the new RIPPLE Christmas video we're working on! So you can imagine the struggle that was! Overall it was a very hard day for Geoff (harder than I think he thought it was going to be!) However, at least he had people with him at all times to explain to others what was going on. Force, on the other hand, had no one with him which turned out to be quite tricky when colleagues were trying to discuss work and especially so when the police pulled him over! So far they have raised over £2000, so well done Geoff and Forcey!
Highlights – Having fish for dinner (thank you David!), collecting my amazing dungarees that Patrick the Taylor made for my two year old niece, seeing the bag of awesome stuff that Toby brought out with him (Lindor chocolates, Port, Amarula, Gin and tonic etc) which was unbelievable, having Pimms on the beach midday on Sunday and moving up my total of 'healed patients' from 1 to 3! Enock (Martha's son), Kate (Loveness' daughter) and Leah (Yona's wife) all have normal feet again!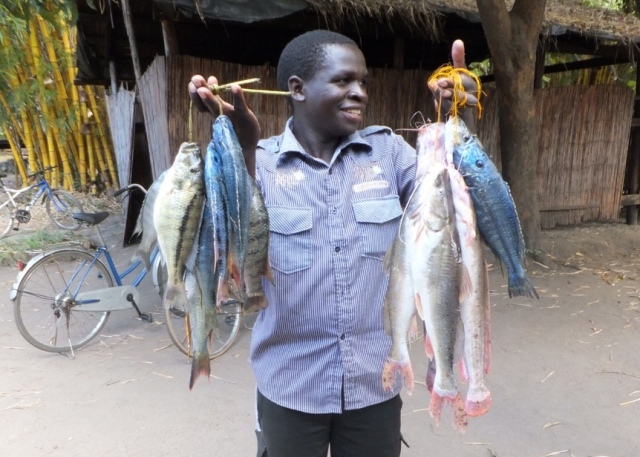 Downsides – Walking along the beach all the way to Kande in the boiling hot sun to watch Murray in the Wimbledon final, only to find it had been delayed due to rain. Typical! Oh and last week three wounds may have healed, but two more were unfortunately created!"
By RIPPLE Africa volunteer Toby:
"As Mwaya's newest arrival, I thought I should add my two pence worth to the blog!
I arrived at Mwaya beach on Monday morning, having had a wonderful weekend on safari in South Luangwa. (If you're thinking about coming out here, I would definitely make pans for a safari, it really is a once in a life time experience!) On arrival, I was immediately struck by how beautiful the setting is- Mwaya beach sits right on the shores of Lake Malawi, nestled in a little cove behind some trees. The beaches are beautifully sandy and the water is lovely! The photos on the website don't do it justice I don't think, the place is stunningly beautiful!
I received such a nice welcome on arrival, it made me feel completely at home immediately, everybody here is so friendly and make a real effort is made to get to know you and to chat to you. Ever since I have been here, it feels like I have been on a crash course of ChiTonga as the locals try to share their language!
The days are already flying by- awake extremely early (sunrise at 5.30) for some sit-ups and press-ups on the beach followed by a swim in the lake- a bit of a shock to the system- then a quick breakfast before heading off to work for the day either in the pre-schools with the kids aged 2-5 or working on one of the many environmental projects that the charity leads. No time for lunch usually and back at about 4/5ish, in time for a very welcome dip in the lake! It gets very dark very early here, and there is no electricity at the base, so from about 6pm we are solely reliant on head torches and the moon and stars. On a clear night it is amazing, dinner on the beach or on 'the deck' over-looking the lake. We're usually pretty knackered by about 8ish, so off to bed early doors!
I came with a very open mind as to what to do here, and so far I have been mainly helping out on the environmental projects. I have been lucky enough to be here whilst Geoff (one of the founders) is out here, and so I have been accompanying him on his visits and meetings this last week. The environmental work RIPPLE is doing is really varied, projects covering the large scale deforestation in the area and the famous Changu Changu Moto to a project focusing on the depleting fish stocks in the lake (which is horribly over-fished). Working on these has been great. We even had Malawi TV and radio in this week hearing all about the progress of the projects! I know precious little about these environmental issues, but it is all basically common sense, and you can see that with education, a massive difference can be made.
When you first arrive, you can't help but be impressed by what the charity is doing in this part of Malawi – there cannot be many people in the area who haven't in some way been touched by RIPPLE Africa. But the really exciting thing is that the appetite to continue to help and to improve the lives of the locals is still definitely there – there are so many live projects ongoing, buildings being built, monies being raised – and you really get the feel as a volunteer here that you are a part of this amazing story."
Don't forget to check back next week for the next instalment of Mwaya Mondays!