For our regular followers of the Mwaya Mondays series, you may have noticed that it has been a few weeks since we have updated this series in our blog. As most followers of RIPPLE Africa will know, we recently lost one of our key members of staff in Malawi, and it's been a very difficult July for the entire RIPPLE team. We know from the many emails we've received that it's hard to imagine life at Mwaya without Jimmy. We've held off on reporting news from the ground during this period, however have restarted the series again, and are continuing it with an entry written towards the beginning of last month from volunteer Ross Carter:
Mwaya Mondays Vol 48- By RIPPLE Africa Volunteer Ross Carter:
"It is my sixth week here at Mwaya Beach, and my turn to participate in this week's blog.
I am still a student back home and hope to graduate next year and study to become an English teacher at secondary level. Visiting Kapanda seemed to be the obvious first step to make, and teaching Form 3 English language for a couple of weeks has been my task. The class sizes here are so much bigger in comparison to back home, so standing in front of 90 learners is something I have found very daunting.
Over the last few weeks, the learners have been sitting their exams, so some disruption was affecting many of the lessons. I have also spent a couple of days during the week visiting Mwaya Primary School to see how some of the younger learners are progressing. Ellie, a fellow volunteer, and I have focused on teaching a small group of learners to boost their Maths and English skills. We have played many different activities with them; such as educational games like 'Hangman' and fun games like 'Stuck in the Mud'. I think it is important to have a healthy balance of fun and education to keep the learners engaged and their mind stimulated. I think it's great being able to see all of the levels of education here, and make contrasts to how they are back home.
I also spent a couple of days this week going through some of the resources available in the office at Mwaya. There are so many excellent creative materials that we can use for the 'summer' school that started last week. Volunteer Chris Schmidt from America is currently organising all of this and will most likely have a chance to inform everyone of what he has been doing in a future blog. But so far it's going very well and has been a great success with the students.
I am also currently teaching Alick (the Headteacher of Mwaya Primary) how to use the computer and am helping him enter all of the important data that he has. It has been great teaching someone who is enthusiastic and enjoys using the computer as much as I do. I hope that the volunteers of the future continue working with all of the teachers and help them to improve their computer skills.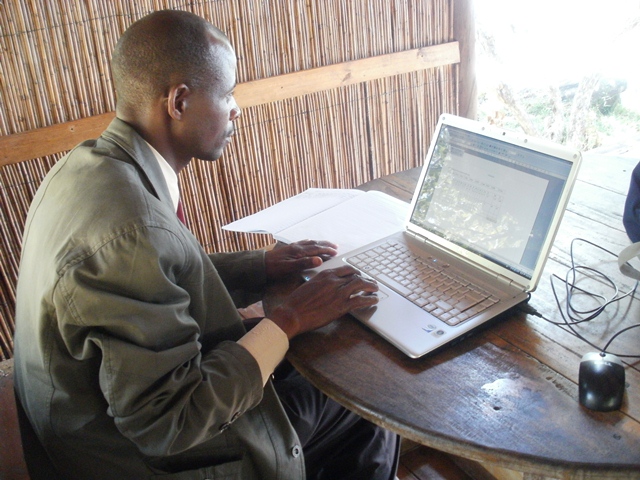 The pre-schools are also another aspect, that I am interested in spending a lot of time in. Chris Beiner, another volunteer, has thought up a genius way for us to all get involved by building swings in all eight of the pre-schools in the surrounding area. We currently have four swings in motion and hope to have the other four completed within the next couple of weeks. Who knows, maybe all of the pre-schools will soon be equipped with slides, roundabouts and a whole collection of playground games!
I really enjoy spending a few hours at the pre-schools, as all of the children are so polite and such a joy to see. We sang a wide variety of songs, from 'Head, Shoulders, Knees and Toes'; to 'Hokey Kokey' as we knew that they enjoyed songs with lots of movement. We spent a few minutes debating how to build the swing, and before we knew it, the children had all lined up to have their 10 pushes on the swing. Seeing the delight on their eyes as they climbed on and flung through the air was a pleasure to watch, and I am so glad to have been part of the project.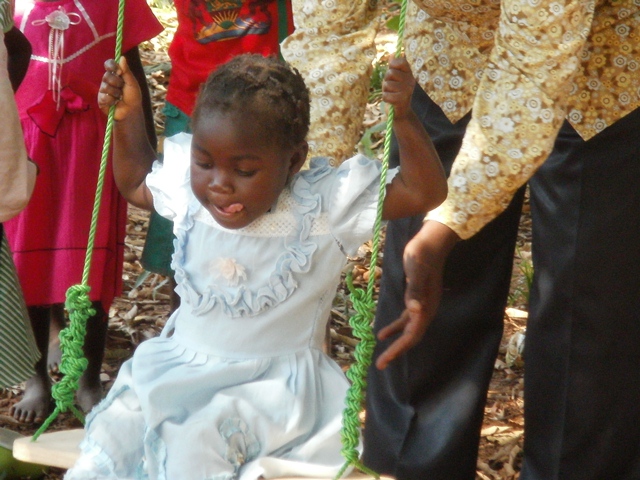 Due to being aware that it was my turn to write this week's blog, I ensured I kept myself very busy in order to have a lot of write about. I visited Catherine and Kate and I travelled to a local village called Kalowa to build some Changu Changu Motos. We walked around and saw that most of the houses were equipped with a the RIPPLE Africa cookstove. Kate and I then followed instructions on how to build a new one in one of the kitchens. I was very excited about learning about the process of the stove and keen to build one myself. We piled the bricks together, carefully placed the mud between each of them, and voila! We had officially created a new Changu Changu Moto to go with the list of thousands currently used in the district.
The Aldenham School group have also arrived and a few of us have tried to spend a couple of days with them by getting involved with all of the different activities planned. We visited Katentere pre-school where a new school for the children is under construction. My original intention when deciding to visit Africa was to get involved with building a school, and luckily for me I was able to spend a few hours working with Aldenham students moving bricks and taking several trips on Eddie the lorry for supplies.
I have also ensured that I keep myself busy over the school holidays by offering Literature and Language tutorials for all of the learners at Kapanda. I would like them to be ready for the following year and am keen to teach them Romeo and Juliet, as I know how difficult Shakespeare can be! The teaching side of things here is really were my zeal lies, but I am more than happy to help with lots of different activities. I hope that I may have another chance to write a blog in the near future before I fly back to England. If not, then you may hear from me in a few years' time when I hope to return with my fiancée. Take care and have a great day!"
A note from Ross:
As you may have heard, on the 12th of July one of the most dedicated RIPPLE Africa employees; Jimmy lost his life. I would just like to say that all of the volunteers and I unanimously agree that Jimmy was one of the most enthusiastic and loving people we had the pleasure of meeting. He was able to influence so many of us no matter how long we had known him. He was a true inspiration to work with and we all wish his family the very best in the future.