Mwaya Mondays- Vol. 23, Monday 12 November, 2012
This week's blog by RIPPLE Africa volunteer Monika:
"Having been away on Safari, I decided to ask everyone for the 'HIGHLIGHTS OF THEIR WEEK.'
PHOEBE: She, her sister Helen, and her brother-in-law Roger left last week for Nyika Plateau, which is located in the north of Malawi near Rumphi. They booked with Wilderness Safaris and had originally booked for camping but they were delighter to be upgraded to Chelinda Camp lodges, which had wood burning fireplaces in their bedrooms, en-suite bathrooms and showers, plus fluffy dressing gowns too! Not to mention the awesome 360 degree views, open vistas, rolling hills and many birds and rare orchids. (Interesting is that Phoebe and Helen had lived in Malawi when they were children. Their father worked for the railroad which sadly is no longer running in Malawi.)
HELEN: Staying at Lowani Camp, she decided to go for a swim. A mango had fallen on the ground so she placed it on her towel. After swimming she sat and ate the mango which had been warmed by the sun, perfect and delicious. Looking out at the lake she wondered 'What more does one need?'
ROGER: Dan had taken Helen and Roger on a tour of the schools and nursery etc. Roger was very impressed with the nursery and was also taken by the nests that the Weaver Birds had made.
ASHLEY: She was teaching the children in her class the memory game. They had to shut their eyes, which was simple…..but they didn't understand to open them….finally got them to understand but it was an interesting challenge.
GRACE: Went with Force, Fumbani, Geoff, Charlie and Peter driving up into the hill villages to see the Changu Changu Motos. Organizing the library books in the main office was very satisfying. They now have labels so hopefully it will stay organized!
JOAN: Form 4 acting out the sword fight between Mercurtio, Tybot and Romeo using 3 rulers to the cheers of the whole class. A GOOD LAUGH WAS HAD BY ALL!
KATE: At Chintheche Hospital… and for her very first time she got to hold a new born baby born the day before PLUS they visited the new RIPPLE environmental office in Chintheche.
CLAIRE: Visiting the deaf school with Katie, where the children were taught sewing, knitting and taking care of the animals. Sign language courses were also taught.
CHARLIE: The arrival of his good buddy "Beanie", who was originally only staying the weekend but has decided to extend his stay.
BEANIE: He loved his first swim in Lake Malawi
SUSIE: Survived her first bike ride without brakes….made going downhill a real challenge PLUS seeing the roof go onto the new RIPPLE environmental office in Chintheche. This was only started 2-3 months ago and construction should be completed by early 2013.
JESS AND POLLY: After a lot of work and effort they got their first composting toilet forms made. Concrete, sand and rocks were bought and delivered to Kapanda School where the Ripple construction workers helped mixing the concrete and filling the forms using templates for the tops. 10 forms now completed, YEAH! Polly wanted to include his quote for this week which was 'THIS IS THE BEST BANANA WINE EVER!'
MARILYN: The night sky full of shooting stars was the best.
GEOFF AND LIZ: Having all the volunteers at Lowani for gin and tonics!
LINDSEY: Enjoying the Health Club that she and I are doing every Thursday for teenagers. Three boys and three girls participated in the lively and open discussion on STD's and contraception.
MONIKA: I booked a 9 day trip with Kiboko safaris to Zambia. I LOVED IT ALL!
The Safari Camp at South Luangwa National Park in Zambia was right on the river. There were 12 guests in our group. My tent had two beds and a wooden door so felt very pampered indeed. Once we got our backpacks sorted we walked a few feet to the eating tent, which was right at the river's edge. A "PARADE OF ELEPHANTS" decided to give us a warm welcome by walking into the river to drink. It was a wonderful sight to see and a fine start to our adventure.
The first night three elephants wondered into our camp and were inches from the back of our tents. A few of our group opened their tent flaps to see them pass by. The next day a hippo wandered into camp and having only seen them in the water their full size was pretty impressive.
The morning and night Safaris were in open vehicles. They used two vehicles so everyone got a good view. We saw lots of elephants (one adult with a baby) standing at the watering hole with his back legs crossed. Our guide said that meant he was bored. Giraffes, zebras, antelops and monkeys were everywhere. There were lots of hippos in the river and one lonely fisherman paddling right beside them (looking for crocks to catch), which the guide thought was pretty brave as hippos will attack. Then we rounded a bend and were almost close enough to touch the two lions (lion and lioness) who didn't seem to be bothered by us at all. Then the lion calmly walked in front of our vehicle and I got a great photo!
The other vehicle had seen a leopard their first night so we were on a mission to do the same the next night as we had not seen one. Next night our fantastic guide shone his light and there in front of us was a large leopard just sauntering along. We all watched him in wonder and amazement, definitely a great moment!
Victoria Falls camp was at 'The Waterfront,' which was right on the Zambezi River. Kiboko safaris helped set up our tents and provided wonderful meals throughout.
The first day I booked the river rafting trip which was an all day event…bus to get there, hiking down to the water's edge was scary with ladders made out of small trees and everyone had to use their oars for balance. Our raft was the only one that didn't tip over but the two (from our group) who sat in front of me did lose their grip and as I saw them leaving the raft I held on and was glad I didn't join them. We all jumped in to ride a couple rapids (grade 2-3), which was a real rush. People showed their videos whilst we had our lunch and dinner. Luckily I had my waterproof camera, so I was able to take lots of shots.
The next day I had booked the open glider to view Victoria Falls, but they had to cancel because of wind, so we had to settle for the helicopter instead, which was incredible to see the Falls from the air.
I walked to Livingstone Island (water low at this time of year so able to do it) and then we had to swim over to where we could jump into the Devil's Pool. The guide jumped in first to show us that there was a rock ledge about 2 feet from the edge to stop us from going over the falls. We all sat on the rock ledge and one by one we were held by our ankles so we could crawl to the edge and have our arms stretched out over the falls. This provided a fantastic photo opportunity, but the memory will be there forever! My camera battery had died but a gal in our group let the guide take photos of me jumping in and of course hanging over the edge. I emailed them to my kids who thought I was crazy….
Kiboko safari photos of my trip are included, which I hope you enjoy: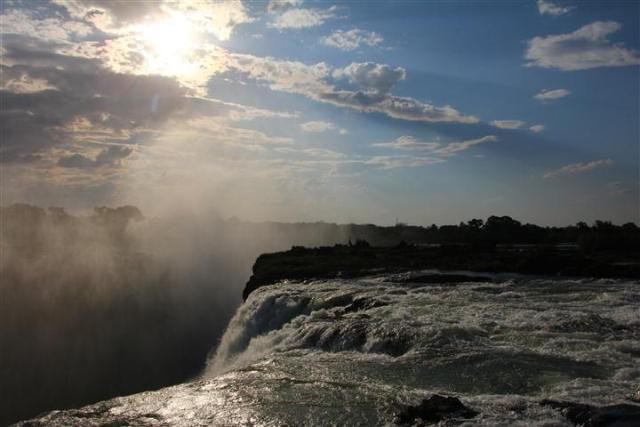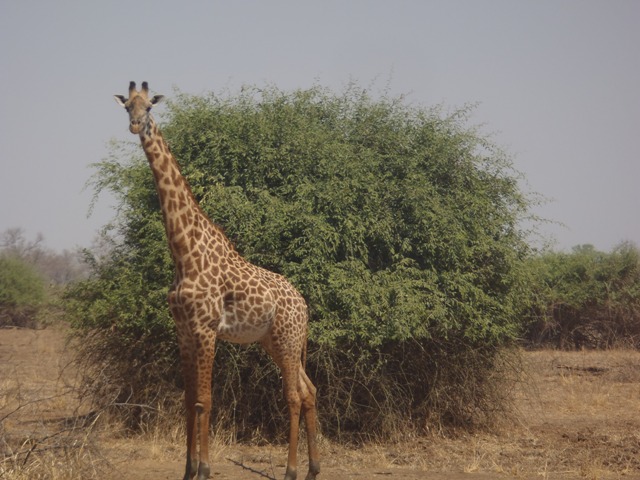 As you can see everyone has their own experiences here. Sharing them over meals or just hanging out with everyone makes one feel very much a part of the RIPPLE family."
Don't forget to check back next week for the next instalment of Mwaya Mondays!