This blog is written by RIPPLE Africa Project & Volunteer Coordinator, Nikki Luxford
Mosquito nets are an amazing piece of equipment but only if used correctly. Recently 9 million mosquito nets have been distributed around Malawi with the aim of saving lives from malaria but unfortunately not everyone will use them for their intended purpose.
For people living alongside the lakeshore, the temptation to use their mosquito net for fishing is too great and is sadly, one of the challenges facing fish conservation committees.
RIPPLE Africa empower and work with local fish conservation committees to educate not only fisherman, but women and children too on the bylaws associated with fishing in Lake Malawi, these include prohibiting fishing with mosquito nets.
However, with the recent distribution of mosquito nets, it was expected that at some point we'd see people fishing with them.
On Tuesday morning two girls appeared at the beach in front of RIPPLE Africa headquarters and started using a mosquito net to catch the baby chambo fish in the shallow waters.
Scooping up the baby chambo fish in the shallow waters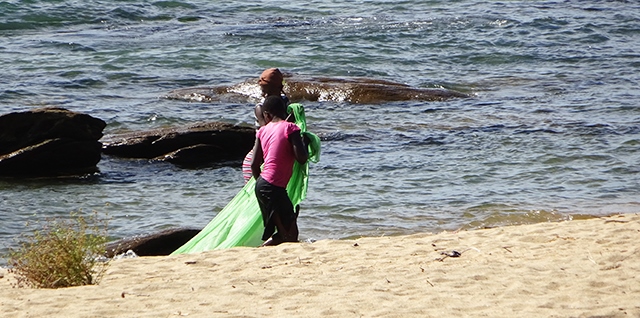 Illegal fishing with a mosquito net
The staff at RIPPLE Africa are very observant so alerted Dan (Assistant Manager) and myself. We went and spoke with the girls to find out whether they understood what their net was for and why they were fishing illegally.
Aged 21 and 15, the girls said they understood what the net was for. The eldest one said, "It's for protecting us from mosquitos."
But they also highlighted that their new net wasn't 'needed' as they already had a net which they were sleeping under.
We also asked why they'd decided that fishing at RIPPLE Africa's headquarters was a good idea and they responded to say that the fish conservation committee in their village were extremely efficient and strict – so they basically didn't want to get caught but wanted fish to go with their staple diet of nsima.
Dan talking to the two girls about fishng with a mosquito net
This example highlights that the fish conservation project is essential and key to saving the fish source in Lake Malawi as well as demonstrating that the fish conservation committees are in fact dedicated to educating people in their areas and actively stopping illegal fishing.
Dan explained to them again though in their native language ChiTonga about the fish conservation project and the importance of letting the baby fish grow, and we've now informed their fish conservation committee so they can continue with the education in their village.
Sadly though, the baby fish were already dead so couldn't be saved.
More information on our fish conservation project can be found here.

The girls getting the small fish out of the net

The fish they've caught. If the fish had been able to grow, the girls would have only needed one big fish and not loads of small ones