World Fisheries Day 2014, in Malawi, supported by Smartfish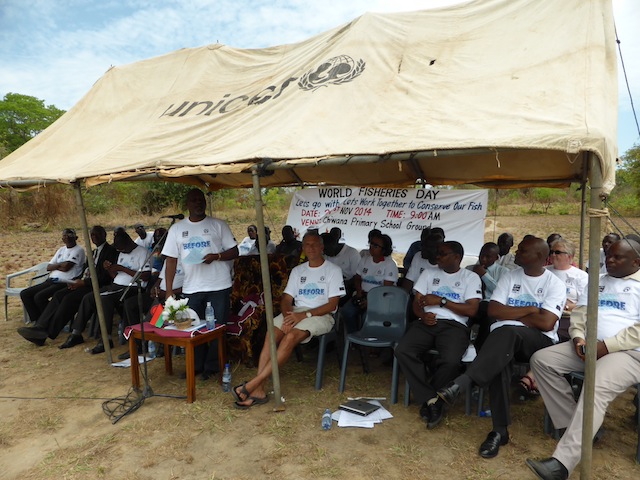 On Friday 21st November 2014, World Fisheries Day was celebrated at a national event held in one of our fishing villages, Chiwana, which was attended by Malawi's Minister in charge of Fisheries, Hon. Dr. Allan Chiyembekeza, his Principal Secretary, the Directors of Fisheries, and the Nkhata Bay District Commissioner. Supported by Smartfish, the day was also attended by the Nkhata Bay Senior Magistrate, Chief of Police, District Fisheries Officer, Fisheries staff for Nkhata Bay, Traditional Authorities, Village Chiefs and a large number of fishermen, together with RIPPLE Africa staff, showing how all interested parties are now working together to ensure that the remaining stocks of the endangered Chambo fish are preserved for future generations.

Geoff meets Hon. Dr. Allan Chiyembekeza, Minister in charge of Fisheries in Malawi

Directors of Fisheries, Geoff and Force

The RIPPLE Africa team
With lots of entertainment as well as speeches, the day received great publicity in Malawi with TV and radio coverage and write ups in the national press. The Minister was so impressed that he has offered his support to us and hopes that we can replicate the project's success in other areas of the lake.

Dancing and singing was part of the entertainment
Not one to let an opportunity pass him by, Geoff has already organised a three-day seminar at Mwaya Beach before he returns to the UK. Three of the Directors of Fisheries are coming to visit so that we can help them to replicate our programme in other parts of the lake. Geoff wants to make the three days fun and entertaining as well as being educational. They have been instructed to leave their suits behind, and we believe that they may even be expected to play the odd game of table tennis!

Geoff gives a fish conservation demonstration
Supported by The Body Shop Foundation and Smartfish, RIPPLE Africa is now working with eight Chambo fish breeding areas and has 25 Fish Conservation Committees up and running, monitoring the fishing practices at 41 beach landing sites. In all, 355 fishermen are involved in the project and the Fish Conservation Committees are working tirelessly to change fishing practices along a 40km stretch of Lake Malawi.
There have been a number of successful prosecutions of fishermen who are fishing without a local licence or using prohibited nets, and this is sending a powerful message to fishing communities along the lakeshore. We are currently at the start of the closed season for Chambo fishing in the lake and are now looking to introduce closed seasons for other breeds of fish whose numbers are low to begin to protect these as well.
For the first time ever when visiting Malawi, Geoff has seen no sign of children or women trawling the shallow waters with mosquito nets to catch baby fish – a real sign of the success of the project. Let's hope that the project becomes a blueprint for preserving fish all along the Lake Malawi shoreline!

Young Chambo fish