Volunteer Laura Alchin has written a story about her time and that of Louise Lobb, a fellow volunteer, at Mwaya which is reproduced below. Stories written by other previous RIPPLE Africa volunteers can be found on the Volunteers' Stories webpage.
Hello from Malawi!
Myself (Laura) and Louise are very lucky to be living here in a beautiful spot right on the edge of Lake Malawi. The people and community are incredibly friendly, and everywhere we cycle we are greeted with smiles and friendly calls of "Hello Mzungu" (which means "hello white person").
Louise and I are both teachers. I am a primary school teacher, and have been working at Mwaya and Mzembe Primary Schools. I have been teaching English, running a remedial maths group, and have started a girls soccer team which has been lots of fun! Louise has been working at Kapanda Secondary School. She has been teaching chemistry and biology, and is the process of organising a training day for the teachers to help improve their teaching practices.
One of our favourite lessons of the week is when we both assist at the adult literacy classes together. The group was set up by Phoebe, another volunteer, who has created some excellent resources for the students and teachers to make the class a success. The classes are for adults who did not get the opportunity to learn to read and write when they were younger. When they first enrol, they explain why they want to learn to read and write. The answers vary, such as wanting to be able to read and send text messages, read books, be able to write letters and to help with their businesses. It is always inspiring to see how hard they work and how committed they are to learning.
The classes are run by two dedicated local teachers, Burton and Allamson, and their assistants, Oness and Abigail. The students are split into groups to cater for the different levels in the class. Various topics have been covered in the lessons, and we have even learnt lots from the students – such as how to cook grasshoppers, how to wear a chitenge, and the best way to cook the local dish nsima.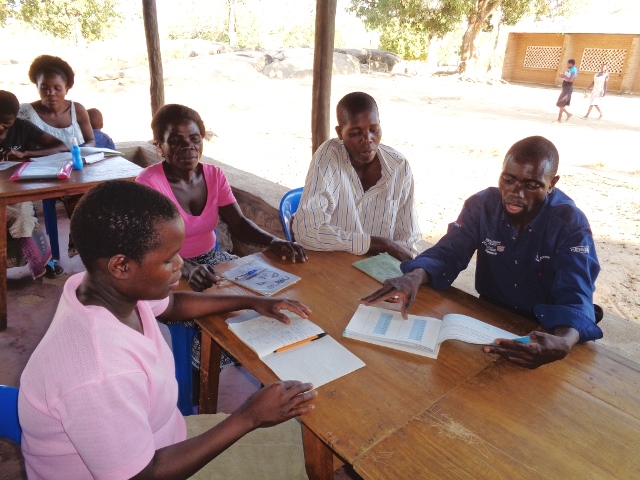 Time is flying by and we are looking forward to seeing the continuing progress of all the students that we work with, as well as picking up more interesting lessons and facts about life in Malawi along the way.
By Laura and Louise