HEALTHCARE VOLUNTEERS IN MALAWI, AFRICA
Are you an open-minded, flexible and pro-active medical professional looking for medical volunteering opportunities in Malawi? Volunteers with medical training should come with an open mind about their role and be aware that, due to the vast differences in how healthcare is delivered, they may find themselves doing very different work to their usual practice. This can be both frustrating and very rewarding, depending on your expectations.
Medical Volunteering in Malawi
Nurses, Midwives, and Doctors
To be most useful in a rural health centre setting, healthcare volunteers need to be fully trained clinicians such as nurses, midwives, and doctors. We are not able to consider medical or nursing students doing their electives as there are no sufficiently qualified staff at the Dispensary or local Health Centres to supervise them.
Areas of experience that would be particularly useful include General Practice, Tropical Medicine, Paediatrics, Infectious Diseases, HIV, Obstetrics and Gynaecology. Previous experience of working and/or travelling in a developing country would be of great benefit.
Unlike the education part of our volunteering programme where we can find projects for a number of volunteers, medical volunteering in Malawi requires fewer volunteers. Please be aware that the Dispensary and Health Centres have very few facilities, and some healthcare professionals may find working at these limiting and frustrating (please read the documents at the bottom of this page so you will know what to expect). Three healthcare volunteers (one doctor and/or two nurses) is the maximum number needed at any one time.
In addition to working at the Dispensary and/or Health Centres, healthcare volunteers may also like to spend one or more days a week at the rural hospital in Chintheche (25km north of Mwaya Beach). A number of healthcare volunteers have also taught in the local secondary school and have found this very rewarding.
Please note, doctors are required to do a six-week orientation placement at a central hospital before starting their placement with us.
Physiotherapists
Currently, there is a shortage of physiotherapists in Malawi and, while there is a higher concentration of physiotherapists in the bigger centres, such as Blantyre, Lilongwe and Rumphi, the rural areas tend to have far less assistance.
In the rural areas, physiotherapy is dependent on community based rehabilitation providers, who are very often physiotherapy assistants, and operate out of organisations such as MACOHA (Malawi Council for the Handicapped) and MAP (Malawi Against Physical Disability).
Physiotherapists with experience working with people with a disability, neurological disorders, paediatrics, burns and amputees would find their skills and knowledge of particular use in this area of Malawi. However, anyone with general musculoskeletal and orthopaedic knowledge will also find plenty of work in the community.
Our Disabilities and Rehabilitation project supports people in the community with cerebral palsy, Down's syndrome, muscular dystrophy, and varying deformities requiring orthopaedic correction, together with the treatment of patellofemoral pain, arthritis, back pain, and post fracture immoblisation stiffness. Please read the documents listed at the bottom of this page for further information.
Medical volunteering in Malawi requires you to stay a minimum of four weeks. The average volunteer placement is around three months which allows volunteers to establish solid relationships in the community and contribute a reasonable amount of time to the projects. It is important to recognise that, although the volunteers will benefit enormously from their experience, our main responsibility is to provide consistent and effective assistance to the community.
It is very important to maintain consistency and continuity in relationships, projects and work already underway and, to this end, we have a Volunteer Projects Manager at Mwaya Beach who is responsible for all volunteers. He will introduce arriving volunteers to the staff at the various medical facilities.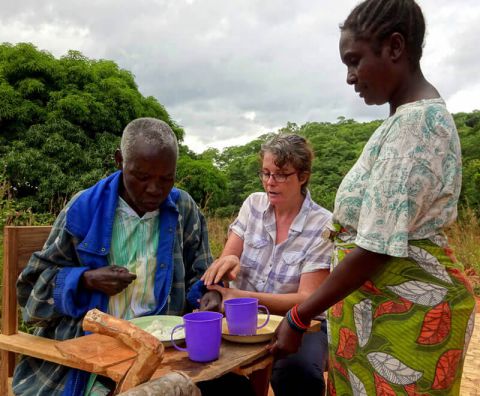 Medical Volunteering in Malawi – Community Dispensary, Health Centres and Rural Hospital
Mwaya Dispensary, and Kachere, Kande and Tukombo Health Centres fall within the Nkhata Bay District administrative area which has a population of approximately 300,000 people. Of these, about 30,000 live in Nkhata Bay boma (town) itself and 240,000 in the rural areas. There are 15 rural Health Centres, one regional hospital and one District hospital in the Nkhata Bay District.
Together with the rest of Malawi, the medical services available at Mwaya Dispensary, and Kachere, Kande and Tukombo Health Centres are free of charge, and they serve a population of approximately 21,000. Both the Dispensary and the Health Centres deal mainly with the treatment of malaria, malnourishment, and minor illnesses, but only the Health Centres at Kachere and Kande have the facilities for delivering babies. The dispensaries at these facilities stock basic medicines and some antibiotics.
The rural hospital at Chintheche is 15km north of Kande, 25km north of Kachere and 40km north of Tukombo, and this is where patients are usually referred in the first instance. Larger hospitals are between 60km (Nkhata Bay) and 100km (Mzuzu) away and usually deal with more serious ailments.
There is a VCT (Voluntary Counselling and Testing for HIV/AIDS) clinic at Mwaya Dispensary once a week, and also ones at Kachere, Kande and Tukombo Health Centres. The staff at the VCT clinics (some paid and some volunteers) can test and provide immediate results, and then give much needed advice for those who test positive or who require information.
Under 5s clinics are held regularly at Mwaya Dispensary, Kachere, Kande and Tukombo Health Centres, and in the local area to monitor and inoculate babies and children under five years old.
This healthcare volunteer opportunity is very much a self-directed initiative which involves evaluating the needs of the Dispensary and the Health Centres with the Medical Assistants, nurses, and Health Surveillance Assistants, and tailoring your responsibilities to best meet these, taking into account your special skills and interests. Medical volunteering in Malawi also gives you an opportunity to work on various outreach projects which can be arranged in liaison with staff at the Dispensary and Health Centres.
Mwaya Dispensary is a short walk from Mwaya Beach, close to the Primary School, whereas Kachere Health Centre and Kande Health Centre are about 7km away to the south and north, and Tukombo Health Centre is about 15km away to the south. Buses, mini-buses, and taxis can be caught at Matete village. There are bicycles at Mwaya Beach which can be used by the volunteers to reach Matete, and some volunteers have walked to Kachere which takes about 90 minutes each way.
If you are interested in volunteering as a volunteer nurse, midwife, doctor, or physiotherapist, please read the documents listed at the bottom of this page for more details. A document with information about applying to be registered with the relevant regulatory bodies in Malawi for the duration of your placement can be sent upon request. The registration process can, however, take a long time, so any nurses, midwives, doctors or physiotherapists wishing to be registered will have to make their applications well in advance of the start of their placement.