It has only been a few months, but already we're seeing fantastic results from RIPPLE Africa's new Fish Conservation Project in Malawi!
RIPPLE Africa officially launched its Fish Conservation Project in December 2012. The project aims to conserve the dwindling fish stocks in Lake Malawi, and recently helped to pass community by-laws which change the way fishing is regulated along a 40km stretch of lakeshore in the Nkhata Bay District of Malawi. The new by-laws introduce a 4-month closed season from November to February to allow fish time to breed, and put in place restrictions on the length of nets and minimum size mesh which means that only larger fish can be targeted. Also importantly, the new by-laws have introduced a local permit system which acts as a form of protectionism for local fisherman from the village. While local fishermen are allowed to fish, unregulated migratory fishermen are banned. This supports local fishermen from within the village, supports the local economy, and drastically cuts down on the number of boats and fishermen in the area which is great for the environment and the lake, too.
Although it has only been five months, we are already seeing a huge difference in the number of fishermen working in the area. Just take a look at the landing site of Masakahunju below.
BEFORE- Masakahunju landing site in 2012
AFTER- Masakahunju landing site in 2013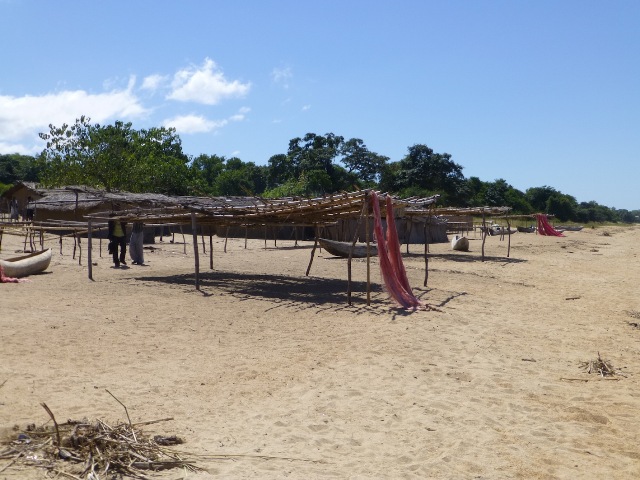 Our Fish Conservation Committees have informed us that at Masakahunju alone, there are now just 30 fishing boats where as last year there were over 100, showing a 70% reduction in activity. Further, these boats have reduced their fishing gear and are responding positively to smaller nets which meet the regulations. The same is happening at other landing sites across the 40km area covered by this project. The Malawian government is taking a keen interest in the project with lots of visits from officials and national news teams to visit us in Malawi! It's great to see everything progressing so well!