Vicki Moroney, a previous RIPPLE Africa volunteer, organised a 1950s themed dinner dance at Aspers Casino in Northampton on Saturday 22 November. The evening was a huge success with 140 people all dressed up and ready to party! They were raising money for RIPPLE Africa and a community interest company called Free 2 Talk which provides much needed local support for children and families in Northampton.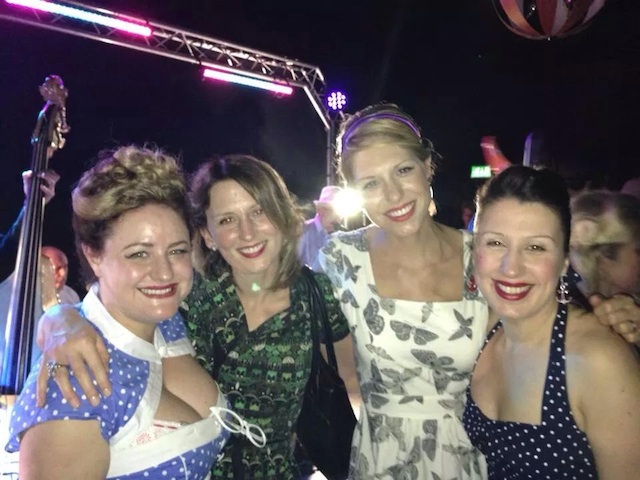 Vicki, Loz, Jo, and Sarah at the 1950s dinner dance at Aspers Casino, Northampton
The evening started off with an amazing three course dinner. Vicki gave a speech about RIPPLE Africa, and Jodie Low, Director of Free 2 Talk, spoke about her charity. Vicki's speech included stories of her time volunteering with RIPPLE Africa at Mwaya, acknowledging other volunteers who had travelled up from London to join in the night's fun, and telling everyone that the money raised from the night would be going to support the Disabilities and Rehabilitation programme run by Collins. In Jodie's speech, she said that the money raised for Free 2 Talk would be going into their crisis fund which is used to support children who find themselves in difficult circumstances in Northampton.
Dinner was followed by a live band performance by 'Way Back Then'. The evening concluded with the prize draw and a disco which played into the early hours of the morning.
Vicki wishes to thank her friends and colleagues for their support for her ongoing fundraising for these two charities which has been overwhelming. She is delighted to announce that in excess of £2,000 was raised for each charity.
This event follows a successful dinner dance organised by Vicki last year when the theme was the 1940s. Next year, she hopes to be holding another dinner dance with a 1960s theme!